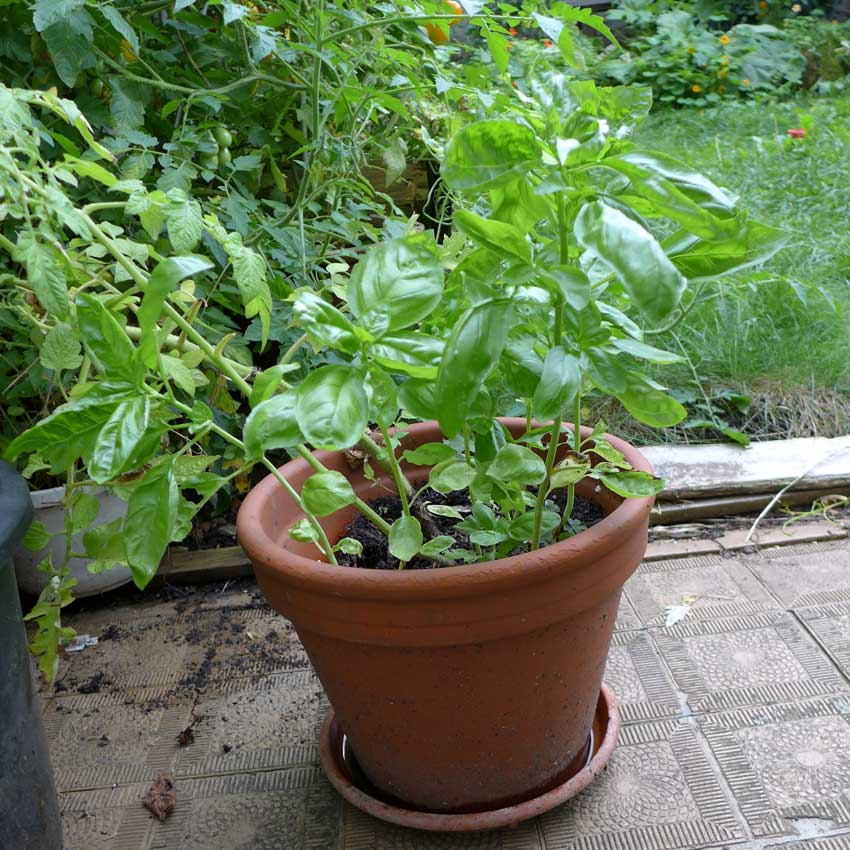 Herbs are the heart of any kitchen garden, whether a few plants in pots or a full herb garden. Herbs (herbaceous plants) are any plants used for food, flavouring, medicine, or perfume. In the middle ages the apothecary garden provided for the general health needs of the population. Today the main function is to provide a range of flavourings for the kitchen and compliment the other crops from the garden.
Herbs also provide an element of pest control for the garden as a number of them repel problem insects while others attract beneficial ones. Having herbs around sitting areas can help deter mosquitos and flies.
Basil (Ocimum basilicum)
One of the most common and popular kitchen herbs, basil is believed to originate from India and the far east. The type used in Italian food is typically called sweet basil. The type genovese is considered the best for culinary use. There are over 160 named cultivars available. The most commonly used Mediterranean basil cultivars are Genovese, Purple Ruffles, Mammoth, Cinnamon, Lemon, Globe and African Blue. Lettuce and Purple basil are popular for kitchen use.
Garden Shed Links:

The sun loving plants generally grow to 18 inches tall. Removing flowering tops can prolong growth. Basil should always be added at the end of cooking as heat quickly damages the flavour. Basil is very sensitive to cold. Basil grows well in open ground and in pots making it ideal for the small garden or balcony.
Mint (Mentha)
Mint is a popular flavouring in many classic dishes, in teas and sauces. Found on most continents it has a long culinary and medicinal history. Mints are aromatic, almost exclusively perennial and rarely annual.
Garden Shed Links:

This hardy plant is notorious for its ability to spread. It grows well in sunny or shady situations but is often better contained in pots to prevent it spreading. Spearmint and Peppermint are the general choice for culinary use. Also Apple mint and Lemon mint.
Rosemary (Rosmarinus officinalis)
A native of the Mediterranean region, rosemary, is a woody, perennial herb with fragrant, evergreen, needle-like leaves and white, pink, purple, or blue flowers.
Garden Shed Links:

The leaves are used as a flavouring in foods such as stuffings and roast lamb, pork, chicken and turkey. Rosemary cultivars are best purchased as plants, or taken as cuttings as seed germination is very low.
Oregano (Origanum vulgare)
Another native to the Mediterranean region, Oregano is a perennial herb, growing from 8–30 inches tall. It is grown as an annual in colder climates. Oregano has purple flowers and spade-shaped, olive-green leaves.
Oregano is often used for Greek-style dishes. It makes an excellent seasoning for egg dishes, meats, poultry, legumes, and breads. Italian and Greek oregano are considered the best all-purpose culinary types used in cuisines of the Mediterranean basin.
Garden Shed Links:

Oregano is sometimes called wild marjoram or sweet marjoram, its close relative, which tastes like oregano but has more depth. Oregano likes a sunny spot and a well drained soil. It grows well in containers. It can be grown from seed and also from cuttings.
Thyme (Thymus vulgaris)
Thyme, known as German or Garden Thyme, is a native of southern Europe and the western Mediterranean. It is a hardy evergreen, bushy, woody-based shrub with small, highly aromatic, grey-green leaves and clusters of purple or pink flowers in early summer.
Garden Shed Links:

Thyme is used in the cooking of beef, lamb, veal, or pork, or sprinkled over eggs, cheese dishes, vegetables, fish, or poultry. It is an excellent addition to soups, stews, stuffings, and rice. Thyme works well with other herbs like parsley, onion, garlic, and ginger to add complexity to their individual flavours.
Thyme grows to about 12 inches tall and can be grown from seed or cuttings. It suits a well drained soil and a sunny location. The plants tolerate cold.
Coriander (Coriandrum sativum)
Coriander is native to the regions of southern Europe and northern Africa and across to southwestern Asia. It is a soft plant growing to 20 inches tall. All parts of the plant are edible, but the fresh leaves and the dried seeds are the parts mainly used in cooking. Cilantro is the Spanish word for coriander.
Garden Shed Links:

The fresh leaves are an ingredient in many Indian foods in Chinese and Thai dishes. As heat diminishes their flavour, coriander leaves are often used raw or added to the dish immediately before serving. In Indian and Central Asian recipes, coriander leaves are used in large amounts and cooked until the flavour diminishes.
Coriander grows well from seed sown directly into its final location. It does not transplant well. It is fast growing but can bolt easily so it is worth repeat sowing over the planting season.
Parsley (Petroselinum crispum)
Parsley is a native of the central Mediterranean region. It is a biennial herb. This means that its entire life cycle from germination, growing, flowering and dying occurs in a two year time frame.
Parsley is widely used in Middle Eastern, European, Brazilian and American cooking. Parsley is best used fresh and at the end of cooking to enliven flavours.
Garden Shed Links:

Most cooks prefer the flat-leafed version, often called Italian parsley. Leaves can be mixed into salads, soups, stews, casseroles, and omelettes. Parsley is good for spicing up vegetarian dishes. The two main culinary types are are curly leaf (P. crispum) and Italian, or flat leaf (P. crispum neapolitanum).
Parsley can be grown from seed but is slow to geminate, taking up to 4 weeks. This process can be helped by pre-soaking the seeds in warm soapy water for 1 hour before rinsing and potting indoors. Small plants can be moved outdoor when the risk of frost has passed. Parsley can be grown in pots or in the ground. It requires partial sunlight, good drainage and regular watering.
Chives (Allium schoenoprasum)
Chives are common across much of Europe, Asia and North America. They are a bulb-forming herbaceous perennial plant, growing up to 20 inches tall. The flowers are pale purple and star-shaped.
Chives have a wide variety of culinary uses.They are used chopped and added to salads, egg and cheese dishes, cream cheese, mashed potatoes, sandwich spreads, and sauces. Use flowers in salads.
Garden Shed Links:

Much like other Alliums (garlic, onions, shallots) growing chives can help to drive away harmful insect pests like aphids and mosquitoes from your garden.
Chives prefer a well-drained soil, rich in organic matter. They can be grown from seed and mature in summer, or early the following spring. They can be germinated indoors in cooler climates, then planted out later. After at least four weeks, the young shoots should be ready to be planted out. They are also easily propagated by division.
Dill (Anethum graveolens)
Dill is common across Central and Eastern Europe, the Middle East, Asia and China. It is extensively used in many cuisines. Dill grows up to 24 inches tall with slender hollow stems and soft delicate leaves.
Garden Shed Links:

Dill is a popular culinary herb used in the kitchen along with parsley. The leaves of dill are aromatic and used to flavour many dishes such as fish and meat or in soups, or as a topping for boiled potatoes as dill butter. It is used in sauces and pickles and with chicken or turkey.
Dill does not grow well when transplanted, so start the seeds in the garden or in pots in early summer. Make sure to shelter the plants from strong winds. To ensure a continuous harvest sow seeds over several weeks. Harvesting can begin after 5 leaves and whole stalks can be taken.
Sage (Salvia officinalis)
Sage, also called garden sage or common sage is a perennial, evergreen shrub with woody stems, greyish leaves and blue to purple flowers. It is a native to the Mediterranean region but is now found in many places throughout the world. Sage is described in old herbal books for the many miraculous properties attributed to it.
Garden Shed Links:

Dried or fresh sage makes an excellent seasoning in sauces, poultry dressings, lamb and many sausage recipes. In European cooking it is traditionally served as sage and onion stuffing or as an accompaniment to roast turkey or chicken.
Sage can be grown from seed but the best way to grow high-quality sage is with cuttings taken from an established plant. Once established in the ground or in a container, prune the heavier, woody stems every spring. It is considered best to replace plants every 5 years to ensure the best quality.
Tarragon (Artemisia dracunculus)
Garden Shed Links:

Tarragon is a perennial herb common across Eurasia and North America which can grow to 60 inches in height. It has slender branched stems and leaves that are glossy green.
French tarragon is generally considered the best for kitchen use. The anise-flavoured leaves are used in soups, salads, egg dishes, stews, and soft cheeses. They are excellent with lamb or served in melted butter with fish, steak, or vegetables. The leaves form the main constituent of tartar sauce and many chutneys.
French Tarragon is never sown from seed but taken from another plant through root division. It is best to buy a good young plant. Nibble a leaf before you buy, it should have a zingy liquorice flavour.
Lemon Balm (Melissa officinalis)
Lemon Balm is a perennial herbaceous plant in the mint family Lamiaceae, native to south-central Europe, North Africa, the Mediterranean region, and Central Asia. It can grow to 30 inches in height and in summer produces small white flowers. The leaves have a gentle lemon scent.
Garden Shed Links:

Lemon balm is often used as a flavouring and can be used instead of lemon juice in many recipes. It is widely used in fish dishes and in confectionary and teas. It's essential oil is popular in aromatherapy.
Lemon balm can be grown from seed. It is best contained in a pot as it can spread. It likes good soil and medium sunlight. It responds well to regular cutting.
Fennel (Foeniculum vulgare)
This hardy, perennial herb with yellow flowers and feathery leaves can grow to 60 inches tall. It is indigenous to the shores of the Mediterranean but is now widely cultivated elsewhere.
The bulb, foliage and seeds of fennel are used in many culinary traditions around the world. Young leaves are used for garnishes, as a salad, to add flavour to salads, to flavour sauces and also in soups and fish sauce. Many egg, fish, and other dishes employ fresh or dried fennel leaves. Fennel seeds are the primary flavouring in Italian sausage.
Garden Shed Links:

Fennel seed can be sown as soon as the soil warms in the spring. Soaking the seeds for a day or two before sowing will ensure better germination. Fennel prefers a sunny location and a well drained soil. As fennel is a deep-rooted plant it requires a container at last 12 inches deep filled with light soil and some added gravel for drainage.
Garlic (Allium sativum)
Garlic is a native of central Asia. It has a long history of use in the Mediterranean region, Asia, Africa, and Europe. It grows up to (4 ft) in height and can be grown in practically any type of garden. There are two subspecies of Garlic, ten major groups of varieties, and hundreds of varieties or cultivars.
Garlic is a fundamental component in many types of cooking. It is also widely used with breads and in oils, dressings, salsas and butters. It's primary use is as the base for sauces, casseroles, soups. It is best stored at room temperature in an uncovered container in a cool, dark place away from exposure to heat and sunlight.
Garden Shed Links:

Garlic is easy to grow and can be grown year-round in mild climates. In cold climates Garlic cloves are planted in the autumn about six weeks before the soil freezes and then harvested in late spring. The cloves must be planted at sufficient depth to prevent freezing and thawing which causes mould or white rot. Garlic plants can be grown closely together leaving just enough space for the bulbs to mature. Garlic is easily grown in containers of sufficient depth.