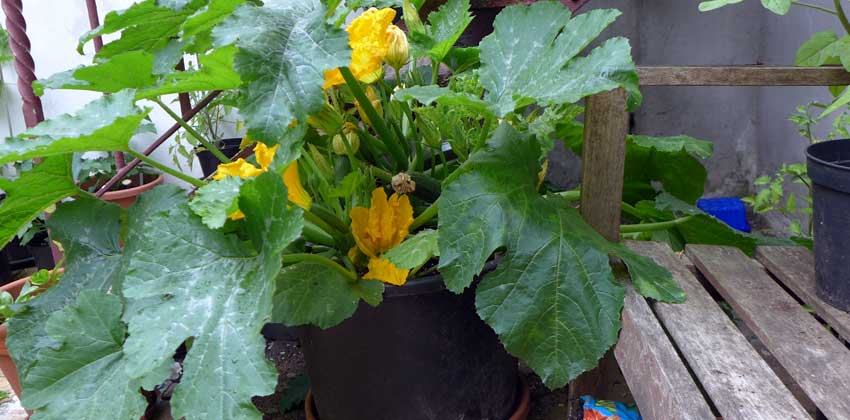 For many people gardening in cities requires planting in pots and containers. Whether it is a few pots on a window sill, several hanging baskets or a series of box trays on a balcony, with some ingenuity a reasonable kitchen garden can be created.
While growing some culinary herbs in pots is often the first choice in limited space, it is worth exploring permaculture approaches of mixed and complimentary planting using stacking systems to maximise the space available. Although culinary herbs are obviously useful, they can often turn out to be under-used and less productive than alternatives which can produce a more regular return.
Even with limited growing space, certain cultivars of beans, cucumbers, squash and tomatoes can be grown in large containers with plants producing the same amount as garden planted varieties. When combined with under-stories of herbs and salad crops even the smallest space can produce a range of daily and weekly crops.
Choice of container. Anything that holds soil and has drainage holes in the bottom may be transformed into a container garden. In many respects the choice of container for planting will be decided by the space in which it will be placed. Careful observation of available space can direct choice towards square pot containers for square spaces over situating a round pot in a square space and loosing capacity. In this respect the space should decide the container.
The depth of container is important. Often when starting gardening people are directed to a standard sized container (300mm) as these are what is generally available. It is worth looking at the available space and considering whether a deeper container can be situated. In most situations a standard container can be replaced with a deeper one (400-500mm) and this will considerably increase the planting options.
Containers can be pre-made off the shelf (pots, trays etc) or self built (wood or metal raised bed), assembled (brick, block) or recycled (commercial catering tins). The aesthetic appearance of the finished growing area should be considered in this choice as often in the city with limited space and neighbours to consider it is important a garden area should not be annoying to others.
The most important consideration with containers is watering. The real disadvantage to container growing is that they are above ground and dry out quickly whereas soil beds hold more moisture underground. The source of water and frequency of watering needs to be carefully considered and should be located nearby.
All plants require consistent moisture and good drainage. In containers this is complicated if the material is porous (for example clay pots) and prone to drying out. In some cases where clay pots are chosen for appearance their water performance can be improved by fitting them with a plastic pot. A plastic pot will not dry out as rapidly as a clay pot and will require less watering. While wooden frame and metal constructed containers dry out quickly their performance can be improved with a plastic sheet lining.
There are a wide range of modern technology solutions for watering containers from drip line surface hosing to undersoil soaker hose. These are all well suited to grouped container areas and can be automated or solar/temperature controlled. Some monitor soil moisture levels and water when levels drop. The cost of these has fallen considerably in recent years and provide a good working solution for gardens where the gardener is not always available (holidays, travelling etc). These technologies also greatly reduce water consumption and are very efficient.
It is essential to have good drainage holes in the bottom of containers or root rotting will occur. Place a fibre glass or insulation wool screen or mesh of the same shape and size as the container in the bottom to prevent soil from washing out of the holes and to bar the entry of pests into the pot. While placing collection trays under containers is a cheap and easy solution to save watering, care must be taken to avoid the bottoms of containers becoming saturated damaging roots.
Water holding gels or hydrogels are available to help reduce the watering requirements of container plants. These gels are available either separate to be added to the soil mix or are already be included in the mix. The gels help to retain moisture in the soil until it is needed by the plant.
A big advantage of plants grown in containers is that the growing medium can be carefully constructed to get maximum growth and production.
Plants in containers require a loose, well-drained soil rich in organic matter. A good mix consists of one part each of potting soil, perlite (to prevent soil compaction), sphagnum peat moss (to increase the soil's capacity to hold water and nutrients) and compost. Garden soil should be avoided as it is likely to contain soil pests or weeds. By adding a slow release fertiliser to the mix this provides additional nutrients slowly over a longer period when there is active growth and fruit production.
The biggest advantage to container growing is that the containers can be placed just about anywhere providing they get at least 8 hours of daylight. Plants do not require direct sunlight all of the time, indeed most benefit from a degree of shade to grow well. Often direct sunlight is confused with general temperature (which is required) over a growing season. This is useful as containers placed in direct sunlight often struggle to survive.
In limited spaces it is worth considering moving smaller plants out into the open during the day and returning them to shelter in evenings. Larger plants (such as courgettes in a large bucket) can be put on wheeled platforms for moving and for turning. Most smaller container plants benefit from turning on a regular basis.
For larger plants, beans, tomatoes and cucumbers, situating the container adjacent to a wall or structure (fence or stair) allows for the plants to climb naturally with support across the structure. The support can be as simple as string attached to a nail in the wall or tied onto a rail in a fence. Garden canes can be used placed early in the containers and for more advanced growing an aluminium frame can be assembled around a growing area.
This use of elevational space in the city, vertical gardening as it is also known, can transform a collection of containers from a lowly ground based affair into a "vege (vegetable hedge)" of mixed plants and produce stacked up. Thus even a single wall on a balcony can produce beans, tomatoes and cucumbers.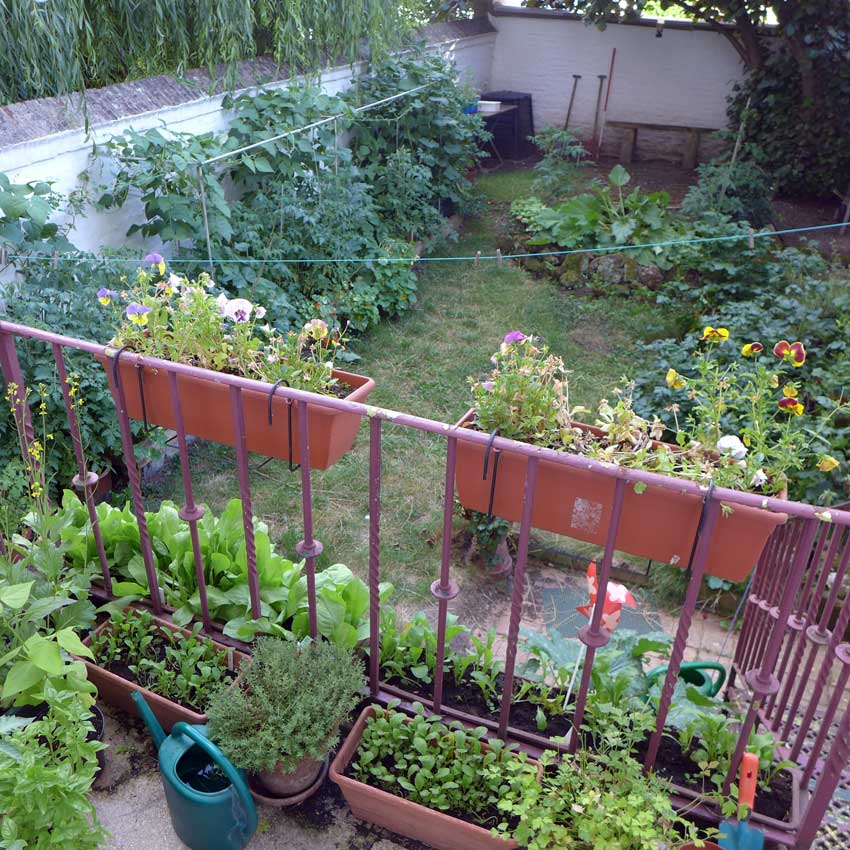 Growing salad in containers is a small science in itself these days. As many salad crops are bothered by ground pests it a distinct advantage to grow the crops in containers away from the ground on window sills or balconies or in trays hung from walls or fences.
The simple "cut-and-come-again" method of growing a salad mix in containers provides for optimal variety and a longer harvest season. Use mixed lettuce seeds and sow directly into a container (usually square box tray). As the lettuces grow, cut individual leaves or handfuls for use. The plant will continue to grow and produce leaves even after several cuttings. Seed suppliers now provide ranges of mixed salad leaf seed for this purpose.
"Baby greens" are immature plants which work very well in containers and provide a steady supply of salad leaf. Baby greens like spinach, kale, and arugula are harvested when they are 15 to 40 days old as opposed to the normal 45 to 60 days for mature plants.
In recent years a whole range of mini vegetables have been developed specifically for container growing. The main challenge with all of these is maintaining soil moisture levels (not too much and not too little). Mist spraying works very well for this purpose but can be required several times a day (the stress of leaving plants all day affects taste).
As with most aspects of city gardening it is important to choose smaller fruiting varieties of plants (for example, cherry tomato over beefsteak) for best results. The smaller plants in containers can and will produce a surprising harvest of food stuff over the growing season and only require a small and constant effort of maintenance.