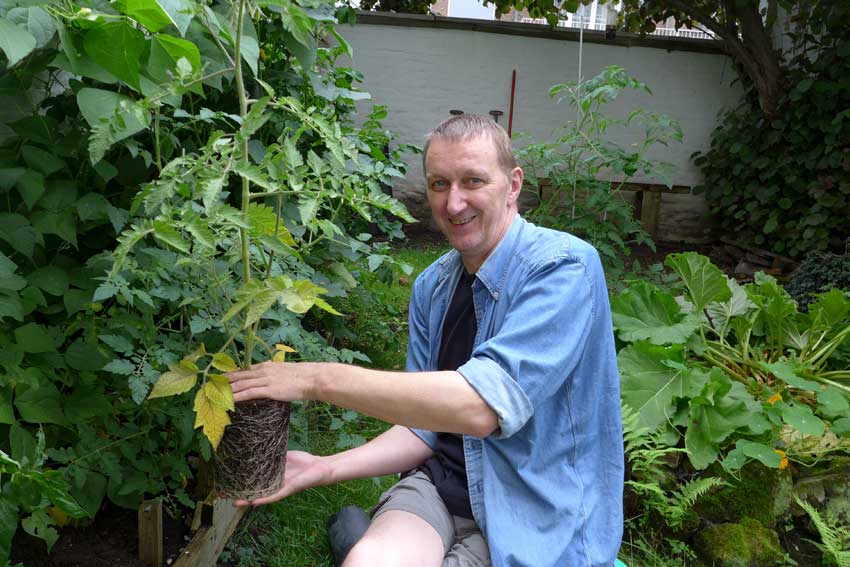 Meet Allan Howard, a Scotsman living with his family in the city of Brussels in Belgium.
This introduction to the author was published by Humans Who Grow Food on 20th April 2017. In the spirit of recycling we are re-producing it here.
I have a family history with home gardening. My grandfather was a riveter in ship-building on the River Clyde in Glasgow. In those days, the 1930s, all the men kept allotments (small pieces of land) for vegetables to feed their families in the winter months when it was too cold to rivet and they had no work. During the Second World War, many more allotments were started to feed people under rationing, which continued well into the 1950s. Most families in Glasgow had someone running an allotment or vegetable garden for the family.
My background is in community development, first in Scotland working with the unemployed and later in Palestine helping establish permaculture projects in the West Bank and Gaza Strip. The Palestinian people have a very long history of self-sufficiency and even in today's troubled times, even the large refugee populations still maintain a culture of growing their own vegetables. I have great respect for people who value growing their own food as a fundamental part of who they are.
I moved to Brussels 15 years ago to work in a research institute dealing with international organisations. Our house is a ground floor apartment in a classical Brussels town house. It has a small garden (12m by 5m) to the back, which is surrounded by tall buildings and has limited exposure. The first thing we did was build a raised bed (5m by 1m) to grow beans, tomatoes, cucumbers and herbs. As half the garden is in permanent shade, the remaining spaces, stairways, balcony and paved area are used extensively for container gardening. As we have little ground space to work with we make full use of vertical space.
Two years ago, I badly broke my foot and could not walk for almost a year. Family and friends helped with the garden while I sat down and started to write the Diary of a Brussels Kitchen Garden. With the help of an internet-savvy friend, we set up a blog and Facebook page to help people trying to garden in the city of Brussels. The project now has over 1800 followers in the Brussels area.
The garden is a practical exercise in seeing just what can be grown in the limited space and conditions of a small city garden. It is primarily a seasonal garden run during the summer months aimed at producing daily and weekly supplements to the family diet. It produces reasonable crops of tomatoes, beans, cucumbers, courgettes, hot peppers, herbs and salads. This year we are including garlic, onions and leeks to extend the growing season.
The interest in the garden is reflective of a growing interest in the city for everyone to have access to healthy organic food. The Brussels regional authority has launched a "Good Food Strategy" for the city which aims to see one third of all fresh food produced within the city over the next 10 years. This initiative aims to encourage citizens to learn about growing food, even on the smallest scale, so a whole new culture of local food production can develop. Land is being made available for allotments, training in gardening is being provided, roof top gardens are being developed and community gardens are being built.
The aim of my small garden is to show just what can be grown in a kitchen garden, a very small demonstration which local people with balconies and windowsills can copy. The aim is not to feed ourselves but to restore some connection – especially for children – between where our food comes from and ourselves. In the future, I hope to be involved with community projects around the city, particularly with the refugees coming to the city from the Middle East.
Allan Howard
Related Reading Links:
Facebook page: Humans who grow food