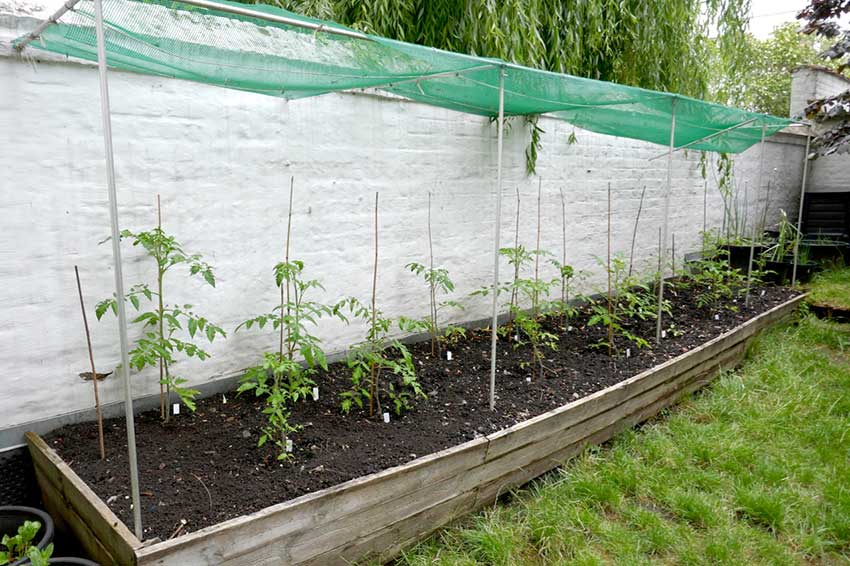 The regular downpours of June look set to continue well into July. While the frequent rain is helpful for seeding out new crops, lettuce etc, it can be problematic for tomatoes. These need some protection from heavy downpours and good support. A basic overhead cover provides "weather shielding" both from heavy downpours and from heatwave conditions.
Tomato plants were held back this year so are a bit "leggy." This is no real problem, simply bury them deep and cover the lower stem. Good support is important in these conditions, here garden canes are used and later will be replaced with string to the overhead structure. Young tomatoes need steady small watering between rain. Planting tomatoes in large pots works well with good support.
The weather conditions are perfect for slugs and snails, this garden is overrun with them. Young tomatoes are very vulnerable. A spray with soapy water (between rain storms) does deter these critters and lets the plants root. Protecting salads is best done in containers and trays off the ground. The new product "Sluggo" is a safe organic pellet worth exploring (see below).
The winter crop has now been cleared from the raised bed. This crop of onions, garlic and broad beans was planted last October – December and provided regular pickings since March. The garlic and onions also have a deterrent effect on slugs and snails. In these turbulent times it is wise to see the garden as year round and start to use the winter season as much as the summer.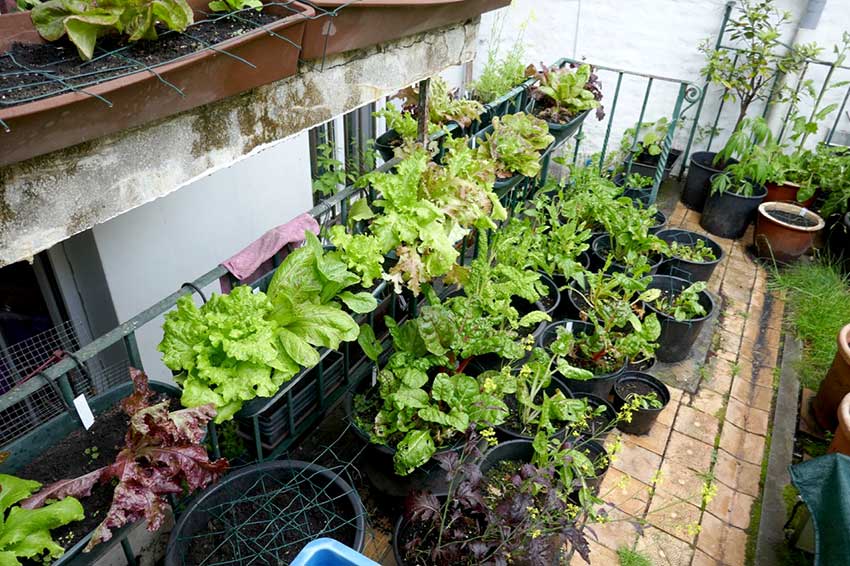 Salad production in containers and trays works best in a city garden full of snails, affording some protection. With the turbulent weather it is a good time to reseed trays and pots for continuing summer harvests. Chard particularly is proving very useful, resistant to both slugs and snails and standing up to downpours and heatwave conditions. Challenging times indeed.
Garden Shed Links: