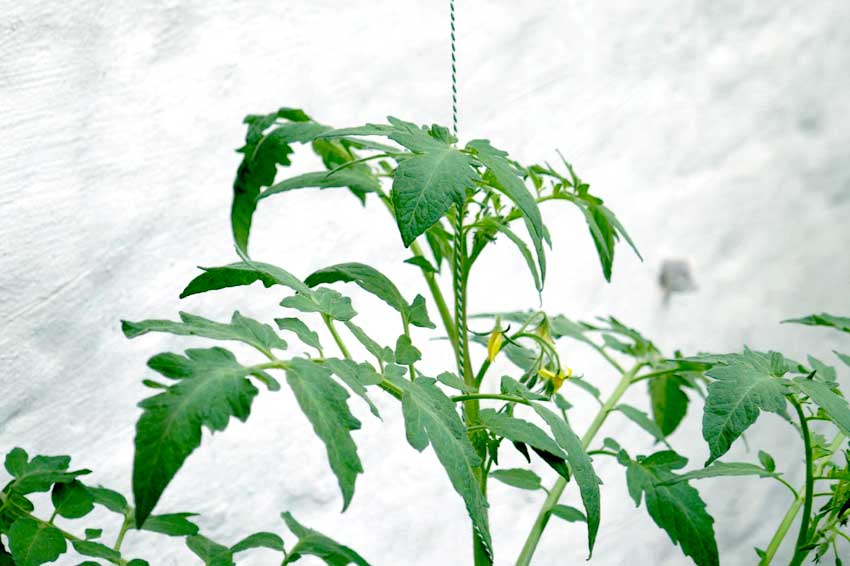 All tomato plants benefit from support as they grow. Besides supporting the plants in winds or bad weather, supporting the plant's shape as it grows increases the eventual harvest and helps ensure good air flow around the plant preventing disease. While pot or bush tomatoes grow well on a single garden cane, climbers and vine tomatoes do better with overhead string support.
The ideal for growing tomatoes in the city is a raised bed with an overhead frame for support. All the plants are started off with a stick support then changed over to string support. String is tied carefully down low below a solid leaf branch. It is worth now using the string to measure the desired height before tying or cutting the string from the roll.
The loose string is now wrapped around two fingers to provide a neat package of string for threading around the plant stem. It is worth the trouble of doing this as the string catches leaves and can tear them. The string is then led up the plant and joined on to the overhead fastening (here string). There should be a light degree of tension on the fastening, not taught and not loose.
With vine tomatoes which grow up to 3 metres long it is worth splitting the direction of the plant growth sideways as opposed to just upwards. Container tomatoes also work well for string training, taking up small ground space and using vertical space. Bush tomatoes benefit from simple stake support to the plant stem encouraging the plant growth upwards.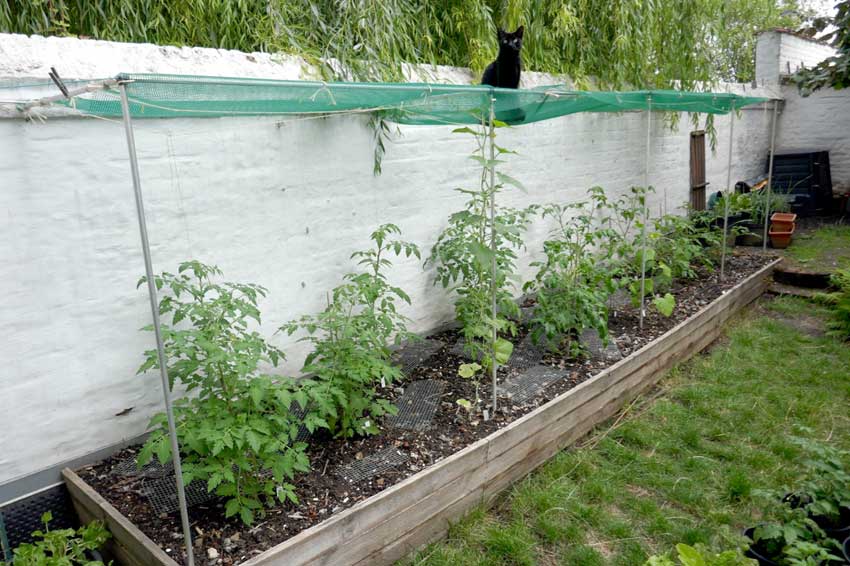 Training tomatoes is all about spacing the tomato plants out in the vertical and horizontal space available. It is like 3 dimensional chess. With vine tomatoes (indeterminate) to the back and bush (determinate) to the front, the vine tomatoes can also use the available space above the bush tomatoes. In this way the available space can be evenly used up. Cats find the process of stringing tomatoes fascinating.
Garden Shed Links: