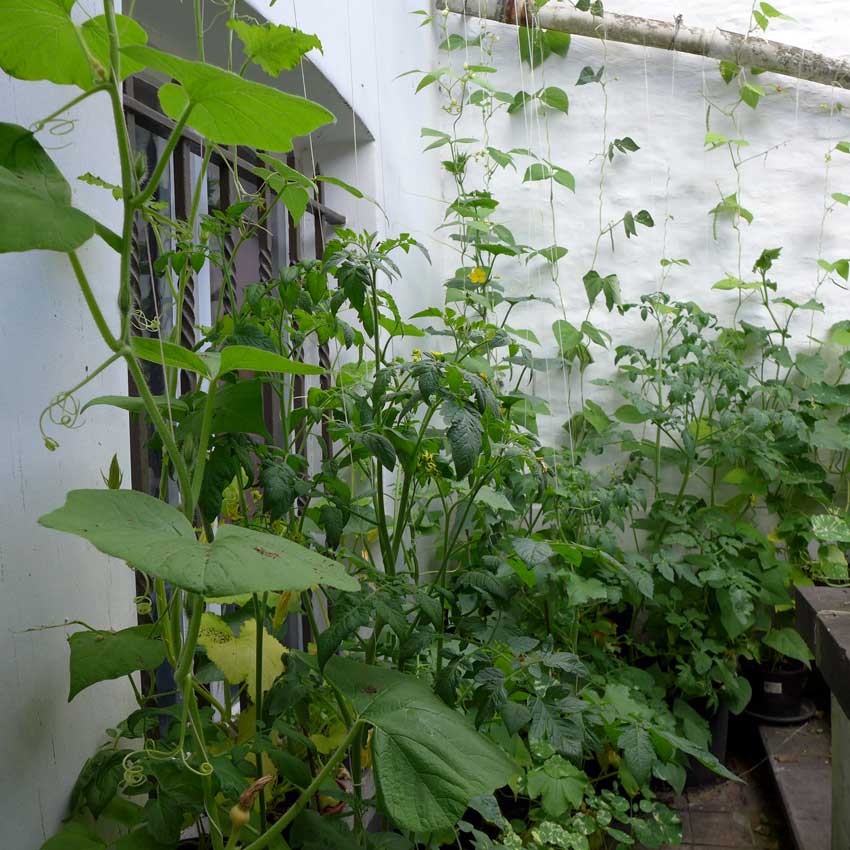 Vertical gardening is for gardeners who do not have a lot of horizontal space. It has become a niche science these days with many elaborate and quite amazing systems, often involving hydroponics and engineered structures that cover whole walls several stories high. This article is about the poor man's version of vertical gardening using string and nails, garden canes and aluminium poles. It does not require a degree in architecture.
It is a paradox of modern gardening that layouts are linear and flat. Even when the ground space is limited still the plants are basically positioned as ground cover sometimes rising no more than a half metre from the ground. In permaculture, the model of the forest garden is used to re-examine the natural use of space where elevation is used by several stories of plant life working together.
It is a common misconception that growing plants over and above other plants will restrict the growth of ground growing crops. This addiction to light exposure is not necessary as few plants really benefit from full exposure to sunlight and most plants require more of a constant temperature and a modicum of shade to produce their best. That said, plants cannot be piled one on top of the other to form a camouflage of greenery where no light reaches the bottom levels. As in all gardening a measure of balance is required.
In the urban city garden there is often no option but to use vertical space. The ground conditions in an enclosed city space often mean dampness in the soil and an increase in slugs and snails at ground level. By growing natural climbers such as beans, tomatoes and cucumbers, a relatively small amount of ground space is used to produce a larger fruiting plant. Creating support structures for these plants requires only a small measure of creativity to fit each of the plants into the appropriate elevational space available.
The gardener's old favourite is nail and string. Quite amazing lattice works of string can be created across walled spaces, across walls and balconies and even across window sills to enable full use of the elevational space available. While this can be as simple as a few masonry nails hammered in to walls for string, it is often better to identify key points for fixings around the garden and properly drill small holes for more secure fixings. It is depressing to come out in the morning and find a perfectly health tomato plant collapsed in a heap on the floor because the nail fixing came out. Better to get a local handy person in with their drill to provide small neat secure fixing points for use year after year.
Tomatoes, beans and cucumbers are natural climbers. In professional greenhouses the young plants are grown to about 30cm then tied off with string to the roof of the greenhouse. The plants then grow 2-3 metres tall. Applying this in the garden means a small ground area, approximately 30cm square can produce a fully maturing plant several metres tall. The initial tying-off must be loose enough to leave space for the plant's stem to continue growing and the string must not be drawn overly taught to strangle the plant in the first wind.
While tomatoes grow mainly on the vertical and suit along walls or beside walls, beans and cucumbers are quite happy to cross open spaces on string so can be strung across stairwells and the like. Indeed, beans and cucumbers can be used to provide partial shading for sitting areas and the like with crops hanging down above head height.
String is by the far the easiest means of utilising vertical space. This requires fixing points on walls or structures which although requiring extra work at least guarantees a good solid fixing. It is important to use a good quality string as it can be quite surprising how heavy a fully grown plant becomes especially after a downpour of rain.
In most cases using a solid fixing point for any vertical structure is to be highly recommended. Free standing structures on open ground can be built where no wall or structure is available but these are then open to the full elements. Garden canes are the simplest form of open ground structures where several can be fastened together to form tepees for beans or basic frames for tomatoes and beans. However, there is no force like nature when it comes to a flimsy frame loaded with plants exposed to the elements.
A most useful modern development is the use of aluminium poles and plastic corner pieces for joining them together into frames. These 16mm poles can be purchased in sets with plastic pieces but far better is to buy the plastic pieces by themselves (see catalogue) and source the aluminium poles locally (in Brussels see link below). In this way the aluminium poles can be cut to exact sizes for a self assembly plan avoiding the need to try and cut poles with an angle grinder or hacksaw.
Related Reading Links:
Hobby Alu aluminium poles (hobby-alu.be)
When assembling a free standing frame the ground fixing is important. If possible, if the ground allows, driving a pole 400cm into the ground is ideal (thus a 2.4 metre pole will stand 2 metres above ground). A rubber mallet is best for this or a block of wood and an ordinary hammer will suffice. A step ladder is required to hit from above. There are other suggested methods for ground fixing, some only involving 100cm depth, but these should be avoided if there is any chance of wind (where is there not?).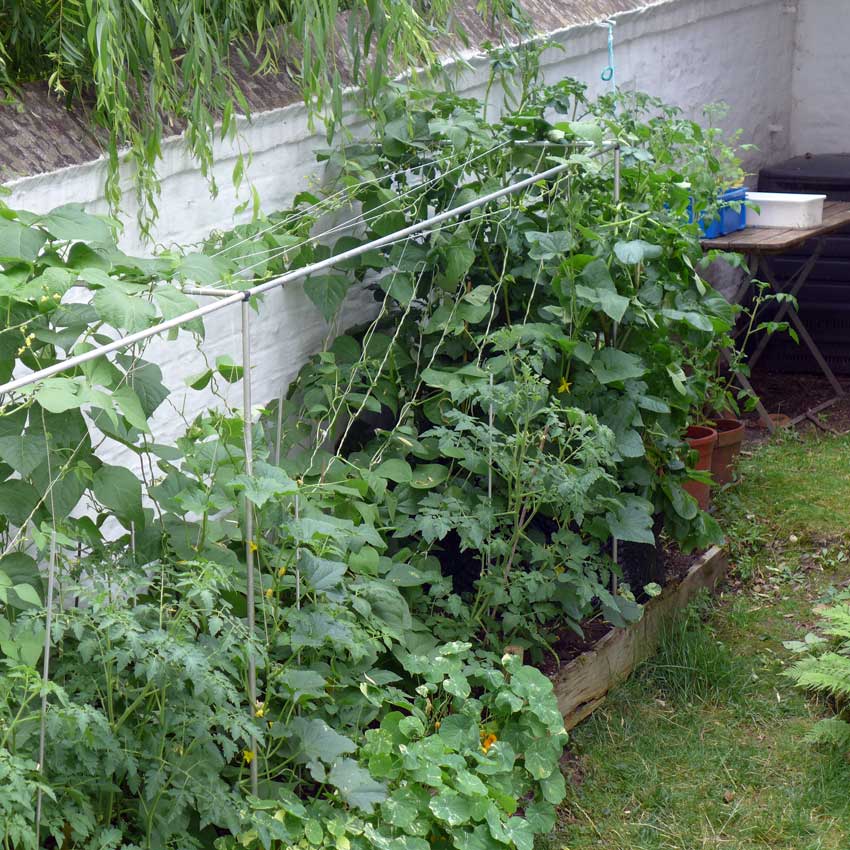 In many ways, a free standing frame should be considered like a tent frame and be slightly flexible in the wind. The integrity of the frame can be increased by running wire through the aluminium tubes and through small holes drilled in the plastic joining pieces to tie the whole frame together. In a similar vein, guy ropes (as in tents) can be improvised to pull on corners where wind exposure is noticeable.
The horizontal spams of aluminium pole are best kept below 1.5 metres as above this the poles can start to bend under a heavy rain soaked crop. As in most structural forms shorter spans are better than longer ones.
Where possible the best results are achieved by fixing a frame to a solid wall. This is awkward as it requires first a wall fixing to attached to, and second a hole drilled in the round aluminium pole to fix a bolt through. It is worth doing this as the end result is a solid frame that stands up to most winds.
It is well worth researching carefully what is the most useful system for elevational planting in the city. The flexibility of what is available means the system chosen can be matched ideally to the space available. A good garden frame system will last for years and can be stored away during winter months for assembly again in the spring.
This article deals with the basics of growing tomatoes, beans and cucumbers using vertical space. In later articles the permaculture approaches to the full use of vertical space using further plant types will be explored.