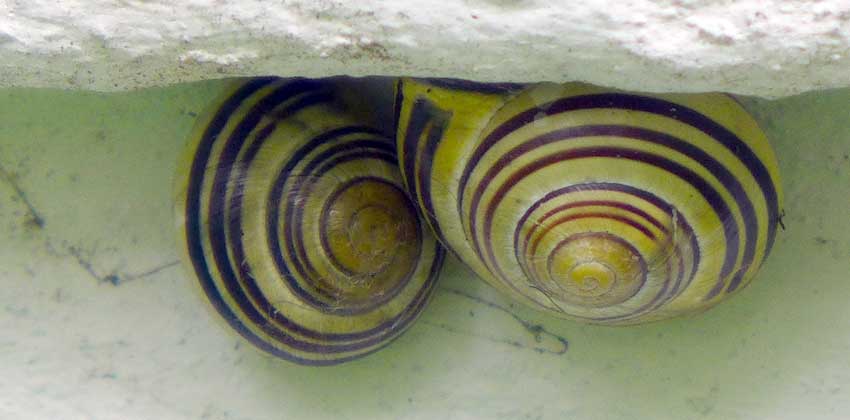 The average city garden can be home to several thousand slugs and snails. The Belgium weather pattern is very suitable for them. Thus if you choose to garden in Brussels (or any rainy place) you have a choice between becoming a psychopathic hunter crawling about in the garden at night with a torch, or accepting the reality of the gastropod situation and adjusting your gardening expectations accordingly.
Snails and slugs are members of the mollusk family and are similar in structure and biology. The only difference is slugs do not have the snail's external, hard shell. Adult garden snails lay an average of 80 eggs at a time into the soil and can lay eggs up to 6 times a year. They can live for up to 6 years.
Snails and slugs are most active at night and on cloudy or wet days. On sunny days they hide out of the heat and bright light. During cold weather and in winter snails and slugs hibernate in the topsoil.
Snails and slugs feed on a variety of living plants and on decaying plant matter. As they prefer succulent foliage or flowers, they are primarily pests of seedlings, herbaceous plants and ripening fruits that are close to the ground such as strawberries, artichokes, and tomatoes.
Snails and slugs are territorial and will attack other species or young. Their territorial range is passed down to the next generation. In this respect snails and slugs are not so much invasive as resident over many generations. The city garden is in fact the ideal environment for a snail population, providing the necessities of food, shelter and moisture (often provided by excessive watering).
The mucus trail left by adult snails acts as an inhibitor to the younger generation. There may be a chemical scent, or pheromone, in slug slime that warns other slugs away. Research also suggests these mucus trails form snail pathways to feeding areas and mark boundaries. There is evidence interfering with these trails can disrupt snail activity and protect young plants during sensitive stages of growth. Coffee grounds and salt (on pathways only) can assist this disruption.
Aggressive strategies for dealing with snails and slugs include hand picking (with torch at night), chemical pellets, beer traps and various (natural and un-natural) sprays. The basic flaw in this approach is the principle, "nature abhors a vacuum." An area aggressively cleansed of snails and slugs automatically becomes attractive to other snails and slugs.
Lobbing snails over the wall next door (while satisfying) is totally ineffectual: snails are territorial and can travel up to 40 metres a night.
Passive methods for deterring snails and slugs can be considered forms of "integrated pest management (IPM)." Rather than chemically bombing an area or concreting the garden completely, IPM strategies look at small adjustments to the general environment. This can include adjusting planting patterns (delaying planting seedlings), introducing plants that discourage slugs (rhubarb, nasturtiums) and encouraging birds into the garden. Central to these passive approaches is an acceptance of slug and snail damage in the garden.
Nematodes (microscopic eelworms) have been used as a form of biological control since the early nineties. The mail-order sachets of nematodes infected with deadly mollusc-killing bacteria come in dry powder and are applied in watering. This temporarily raises the proportion of nematodes in the soil and brings down the slug population. It is a slow process and requires frequent application over the growing season.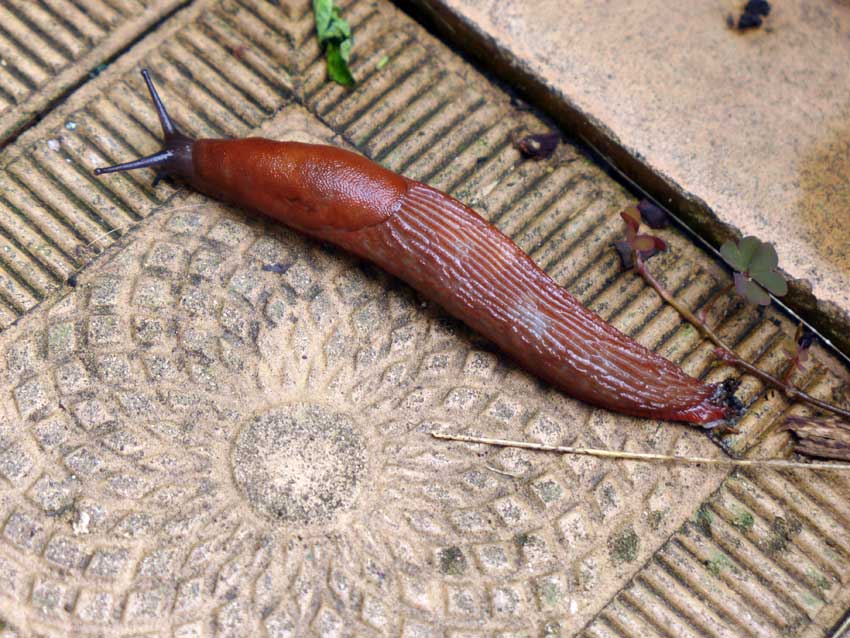 Slugs and snails will destroy bean and tomato seedlings over night. This can be overcome by bringing on young plants for longer in a protected nursery area (window sill, indoors, cold frame) before planting out. Young plants over 300mm in height are often hardy enough to survive attack. Once out, copper wire protections have some effect as do rough sand, wood ash and coffee grounds (sourced from local coffee shop). Some species of plant can be more resistant to slug attack than others.
Container gardening on balconies, window sills or flat roofs can avoid this problem considerably.
Basically slugs and snails are a very real part of a mild and wet climate zone. The idea of removing them completely is unrealistic. Learning to work around them and not engaging in conflict with them is key to the good overall mental health in the average gardener.
Garden Shed Links: