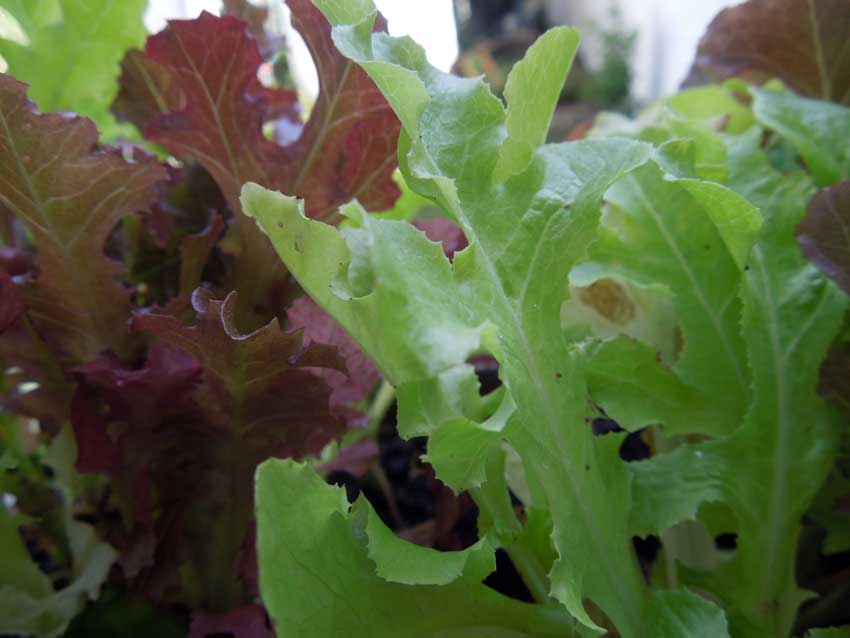 There is nothing nicer than rows of lettuce growing in the soil, it is the quintessential home garden image, lovely straight rows of different colour lettuce sitting in the summer sun. Unfortunately if you happen to live in the cooler climates of Europe such as Belgium, where summers can be mixed and damp, your lovely rows of lettuce very quickly become not so lovely rows of slug infested waste.
Growing salad in containers is a relatively new approach that avoids many of the problems associated with open soil cultivation. The "cut and come again" method, which provides a constant supply of leaves (rather than full heads of lettuce) means a couple of box trays can produce an excellent salad mix for several months of the year. Add to this some herbs in containers and some mini vegetables and even the smallest balcony can provide a good healthy component of greens to the daily diet.
Lettuce (Lactuca sativa) is a cool-season vegetable that thrives in the lower temperatures of spring and fall. This is an important point as many people assume lettuce and many vegetables require full sun and high summer temperatures. This is not true. In many respects lettuce works best either side of main summer crops in the spring and fall when nothing much else is available in the garden. The summer heat causes most lettuce to bolt and go to flower producing bitter and tough leaves.
A few trays sown with mixed salad leaves started in March indoors or protected with a plastic cover will produce a steady supply of salad greens through to June. Similarly, a few trays sown in September will produce the same constant supply through to November. There are summer hardy varieties that do not bolt in summer heat but generally the cooler condition types produce a better quality and taste.
In recent years balcony farmers and container gardeners have developed an elaborate science for producing "mini-greens" which are basically young and immature plants which are harvested using the "cut and come again" method, producing succulent and fresh mixed salad. For small spaces especially this is a relatively easy system to experiment with. The grower is not aiming for full plants but simply well growing plants from which a few leaves can be taken on a regular basis.
There are many types of lettuce which can be confusing. Most can be grown successfully in containers but in particular looseleaf and butterhead type lettuce are preferred as they produce more leaves to the outside as opposed to forming tight close heads of lettuce. This type of growth is called a rosette form which simply means that the plant produces leaves in a circular form with new leaves coming from the centre and the older leaves to the outside edges, ideal for picking.
Lettuce seed is very small and is best sown direct into the containers with a light covering of soil. The key to a good salad garden in containers is to use succession sowing, starting with a first drill or two of seed and planting more seed as the first comes up. A few seeds sown every other week, mixing varieties, means there is always new growth under way. Seed can take 5-10 days to germinate. Keeping the soil moist but not wet is key. For this a mist spray is ideal.
As lettuce are mainly water it is important to ensure the plants are regularly watered. Lettuce is most sensitive to drought which produces hard sour leaves. Lettuce is also most sensitive to over-watering or wet roots which produces rot and wilt. In this respect lettuce is ideal for balcony or window sill, with spray bottle to hand, so a gentle misting can be carried out as often as possible. For people out at work during the day there are now simple drip irrigation kits that work very well (see catalogue).
Besides lettuce there are a range of other leafy green vegetables that are suitable for mixed container gardening using the "cut and come again" method. These include chicory, chard, mizuna, parsley, pak choi, red kale, rocket, sorrel and spinach. All of these can be grown mixed together.
Most seed suppliers are now providing special mixes of lettuce seed especially for the "cut and come again" method. These can include spicy mixes and unusual combinations well worth trying.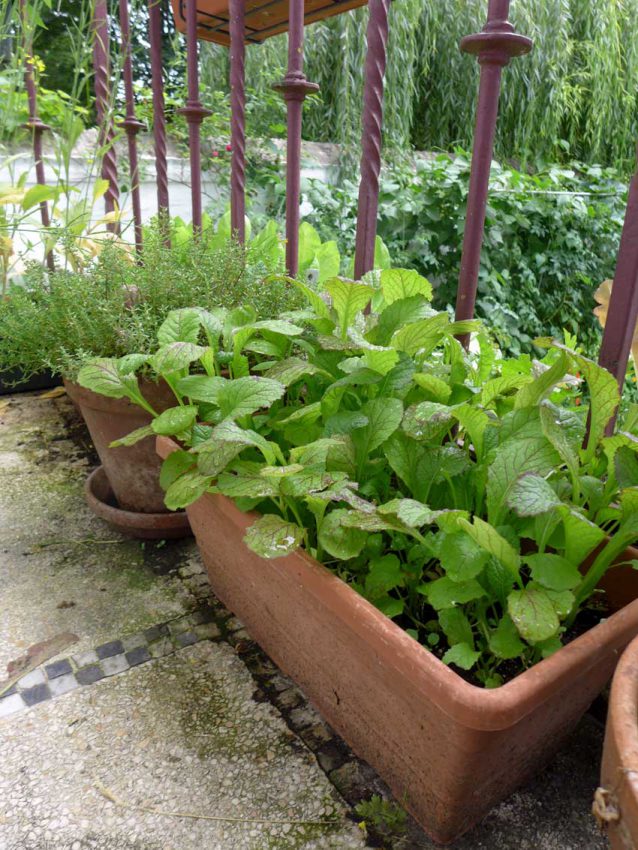 The obvious concern with growing salad in containers and trays is spacing. This concern should be ignored to some extent. Once seeds germinate it is worth picking out any bunched tightly together so each has an inch or so of space around it. With growing loose leaf varieties the plants may be crowded but still produce plenty of leaves albeit slightly smaller than could be expected. Experience next time round can adjust that to produce slightly larger leaves.
Using the "cut and come again" method for salad growing should result in several good cuttings from each plant so running the crop over a longer period of time. By working with a couple of trays one tray can be cleared and started again when the leaves become hard, while another tray is still coming into full growth. Succession planting between a few containers ensures a constant supply over many months.
It is also well worth considering mini-vegetables for containers and trays as they make an excellent addition to salad leaves. Varieties that can be eaten when immature include mini carrots (finger or round), baby beet, radishes, spring onions, dwarf kale and mini turnip. There are also mini head broccoli and baby cauliflowers worth considering.
Herbs such as basil work very well for "cut and come again," as they respond well to pruning and produce constantly over a long period. Mixing a couple of varieties of basil together can produce a nice mix of leaves. While most herbs grow well in containers beware of pot grown herbs from supermarkets etc as these are often forced grown for effect and perform poorly when grown outside in the garden.
Garden Shed Links: