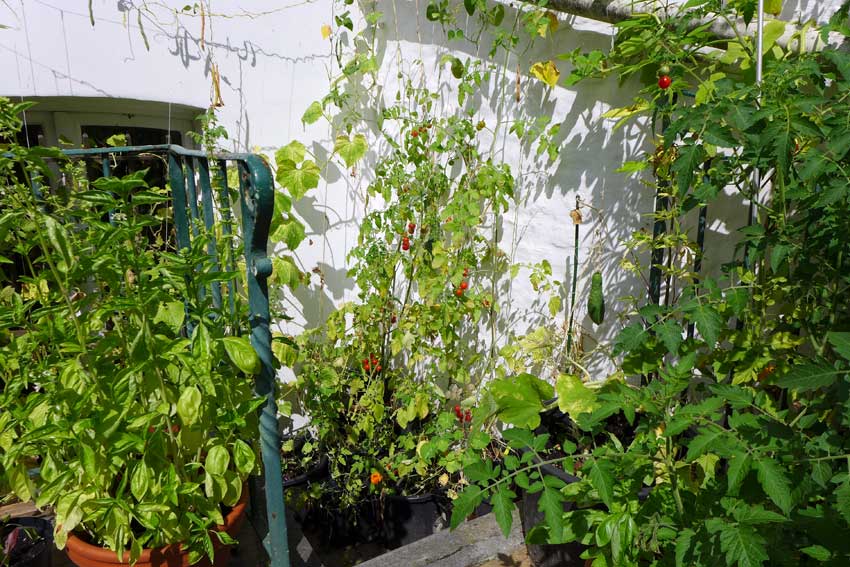 Grow your own food: 10 tips for urban gardening in Brussels
Brussels has great potential – and no space is too small.
The Brussels region has set an ambitious goal to locally produce 30% of the fruit and vegetables that its residents consume by 2035. The figure currently stands at 1%.
There might be a long way to go – but the good news is that Brussels has great potential for urban gardening and no space is too small, according to Allan Howard, a Scotsman in Brussels whose kitchen garden in Ixelles has been growing for a decade.
"We don't buy any tomatoes, cucumbers or beans throughout the summer months until about October," he says. "A lot of the stuff gets processed and put into the freezer, so that will extend it even more.
"With the weather changes there are some benefits with the latitude that Brussels sits on. We're going to have reasonably better summers for producing, so there is a possibly that our food production in the city could see a lot more of it coming from inside the city."
So where do you begin? Here are a few of his tips.
No space is too small.
Even if you're in a garden-less apartment with just a window sill, you can still start producing many of your salad requirements. "There's a system for growing different mixed lettuce called cut and come again. That's a very simple thing that one person can do." With just a few trays on the railing of his balcony, Howard is producing chicory, beetroot and radish for summer salads.
Gardening is a 3D puzzle.
If you're looking at the tiny patch of land at the back of your house and think space is a constraint, think again. "There's actually quite a lot you can do in those spaces if you don't just think about sitting things on the ground," says Howard. "The trick is to use the height – vertical gardening is what it's all about. Brussels gardens are mainly walled-in areas. In the city you've got structure which many crops require. They need support to grow. The walls in cities not being used is a shame." In the height of summer, part of his garden will be up to 2.5 metres tall – filled with beans, tomatoes, cucumbers, basil and peppers. "This is where permaculture comes in, mixing species together and using different levels," he says.
Think outside the box.
Even a stairwell leading down to a basement has potential – a pot on each step takes up little space and can be used for growing anything from beans and cucumbers to tomatoes and chilli peppers.
Move things around.
Plants have different growing cycles and different needs when it comes to light and shade. Beans might start the spring in direct sunlight and then be moved to a shaded part of the garden to make room for later-growing plants. "What you learn to do is bring things on in the sunlight, then you can move them into the places where there's less sun. The trick is to start things in one area and then move them."
Build a raised bed.
Just a few square metres of outdoor space is enough to build your own bed. "A basic raised bed is a good starting point for anyone," Howard says. "They work with compost systems. We compost everything in the house. It keeps the soil healthy, keeps it clean. The coffee shop round the corner will give me a bag of coffee grounds which goes into that. This strengthens the soil so it doesn't require artificial feeds."
Keep a close eye on the weather.
The biggest factor affecting your success will be the weather which, in Belgium, can be very unpredictable. A lot of English-language tutorials on YouTube are not relevant for the Belgian climate. "Every year is different," says Howard. "Today we're standing here in glorious sunshine, but tonight the temperature could fall to 2°C and any of the smaller plants would just not manage. Plants are 98% water, so frost will destroy them."
Join forces.
If you'd rather team up and make your urban gardening a collective effort, help is at hand. "The Brussels authorities have done an excellent job over the last number of years," Howard says. "If anyone can find a piece of derelict ground and half a dozen people who together are interested in doing something, there's no doubt the support is there for it."
Take to the roof.
Brussels has great potential for rooftop gardening, says Howard – an area in which he hopes to carry out more research in the near future. "In Holland, Germany and America it's a very well-established thing to have rooftop gardens. Brussels only has a couple. Anyone that walks around Brussels sees the number of flat roofs that are available, it's quite interesting. It's about trying to find a low-cost way to do it."
Spread the word.
"People are becoming more interested in getting a direct source of good quality food," says Howard – so share your experiences with others and help your children learn about gardening. "Most children have no idea where their food is actually coming from. Our children and their friends come here to see these things growing. We've got generations growing up that don't know anything about where their food is coming from, or the fact that they can actually produce it themselves."
Don't be afraid.
Mistakes will happen, attempts will fail. "This garden we've been doing for 10 years – every year we try out new things," Howard concludes. "There is no expertise in this – it is very much trial and error all the time."
Apr 20, 2016 ~ Paul McNally
Related Reading Links:
The Bulletin Website (xpats.com)
The Bulletin Article (xpats.com)