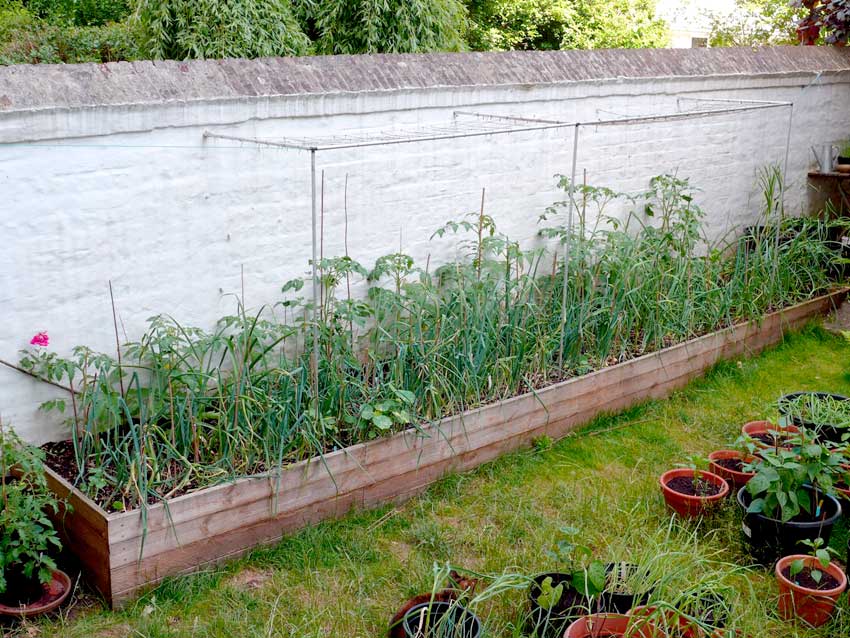 The classical way to grow tomatoes in a city garden is with a raised bed providing good drainage and with an overhead support frame. Here 11 tomato plants are planted along the back wall with onions and garlic in front. The aim now is to direct the growth of the tomato plants to fill the bed width and height using string.
Tomatoes are often grown as single standing vines with side shoots removed. Here, these heirloom varieties are chosen to form bushes within the frame with several vines of each plant. String is used to draw vines towards the front of the bed allowing secondary vines to emerge to the back. It is better to do this work a week or two after planting the plants.
The plants at this stage are flexible and easy to work with. String is fastened low down and loosely below a side branch then wrapped carefully along the vine before being raised up and fastened to the frame above. Garden canes are removed so the plant is supported only on string.
Creating an overhead netting is useful where the height space is limited (tomatoes can grow to 3 metres tall). By creating this net surface and cutting back growth as plants pushes through the net, the plants are kept to a more manageable height with tomatoes produced across the netting and growing in the middle areas underneath.
These heirloom varieties (see below) have been selected based upon previous successful crops. They are different colours, shapes and textures and will produce at different stages over the summer. This system of growing tomatoes in a city garden allows good air flow through the plants. It also allows some shading for the plants during extra warm days.
Garden Shed Links: