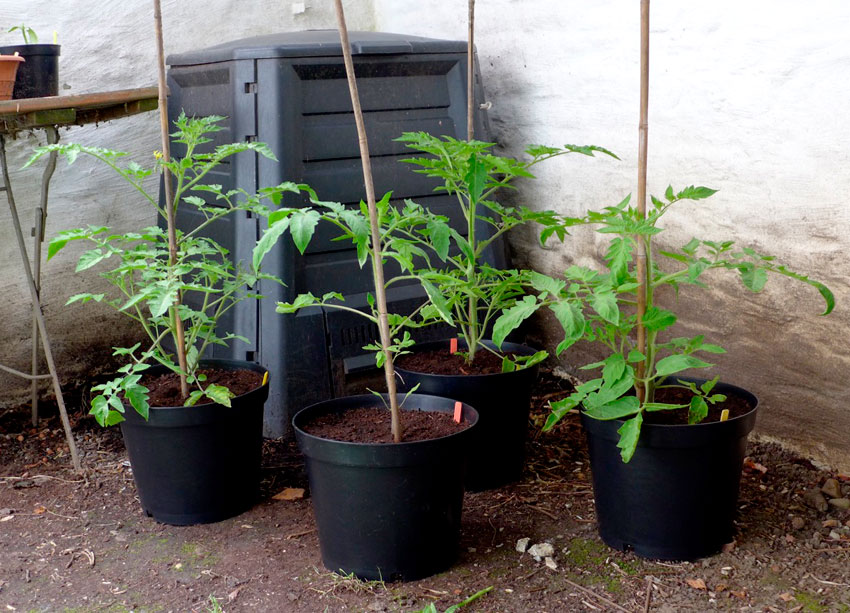 Some gardeners say tomatoes grow better in pots than in soil beds because the pot constrains the plant forcing it to grow. Either way, tomatoes grow very well in pots, whether started from seed or bought as young plants. The main thing is to give the plant a good sized pot and ensure it is properly settled into the new pot.
A young tomato in a starter pot (about 16.5cm diameter) should go into a pot (28cm diameter, 23cm height, min). Bigger is better but not essential. It is important to check the plant's root ball is not overly tight or wrapped around itself. If necessary this can be gently loosened off.
The key point here is to settle the plant in the new pot on a base of soil so that when the pot is filled the plant stem is buried 5cm under the top surface. Soil should be gently packed into the pot down the sides and pressed down (not loose and full of air). The pot is then packed with soil to the top inside edge, leaving space for watering. Insert a garden cane at this stage, right to the bottom (do not worry about root damage).
Some people water the soil in the pot before inserting the plant. This can be messy. It is more straightforward to repeat water the finished pot over a couple of hours, saturating it until water emerges below. Take time doing this, pat down soil in between waterings and if necessary add additional soil on top. This thorough watering gives the new plant its best start.
All tomato varieties can be grown in pots. Indeterminate types grow all summer and can be trained up walls on string. Determinate types grow to about 1.5 metres and stop. Bush varieties, such as these two will grow to about 1 metre in height, forming sturdy bushes and produces lots of fine quality tomatoes.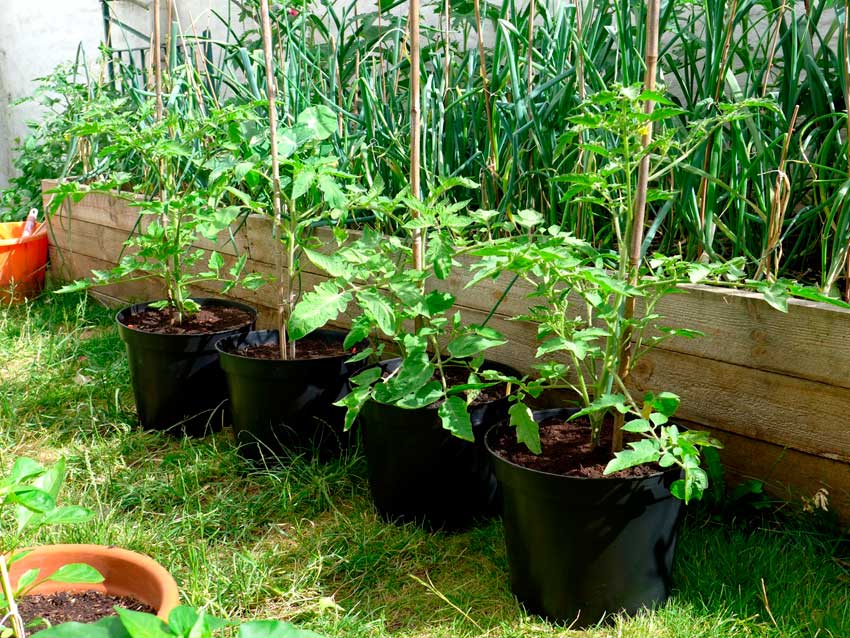 At this stage, the well watered plants need rest and sun. A light watering of the soil each day ensures the roots will develop into the pots. As summer goes on this can be reduced. Plants in pots are good for moving about. Once the plant starts to produce it will be moved out of direct sun into a more shaded position.
Garden Shed Links:

Related Reading Links:
De Nieuwe Tuin Website (denieuwetuin.be)