How to turn a plain stair wall into a hedge. By hanging a simple string net a few inches off a wall climbing beans can be grown across the whole wall. As beans produce about 1 metre above ground level this leaves a useful growing space for herbs, peppers and salads below.
While the netting is intended for climbing beans it also works for other climbers such as cucumber. Here, a crystal lemon cucumber which has long vines about 2 metres and produces half a dozen apple sized fruit. The crystal lemon works well sliced with regular cucumber, having a mild lemon flavour.
The beans grown here were started from seed indoors earlier in the year then plants hardened off outside in spring before attaching to the netting in May. These beans are being grown for the beans inside. Immature beans are picked earlier for daily use or for freezing.
Stairways are natural pot holders. With a row of pots against the wall for the beans a second row in front can be used to produce a good range of non climbers. A stairway is also a useful space for rotating containers around the garden, giving plants time in the sun and in shade.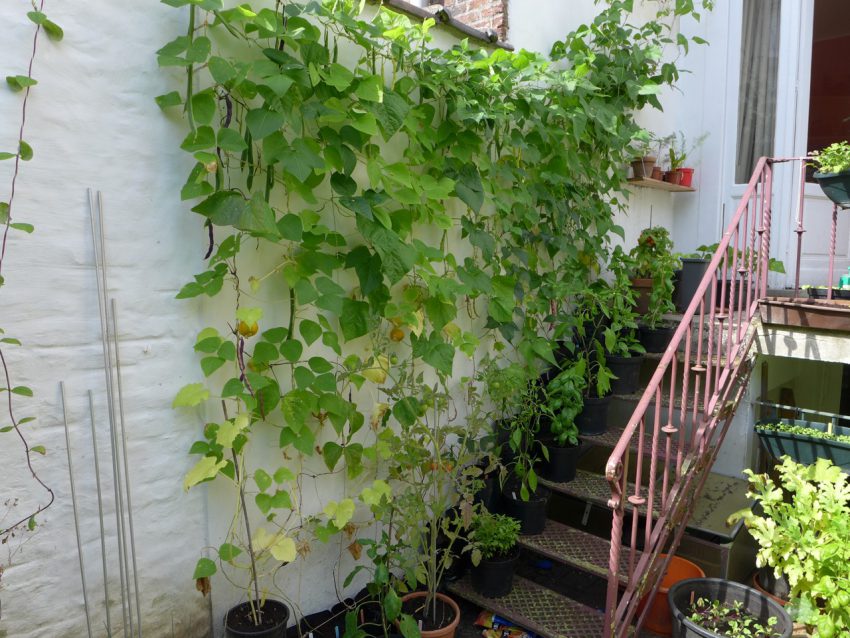 This particular wall gets a few hours of morning sun and then is in shade for the rest of the day. Some gardeners say morning sun is the best for plants, not being as hot as afternoon sun. In a shaded small city garden it is well worth spending time to establish just when each area gets sun.
Garden Shed Links: