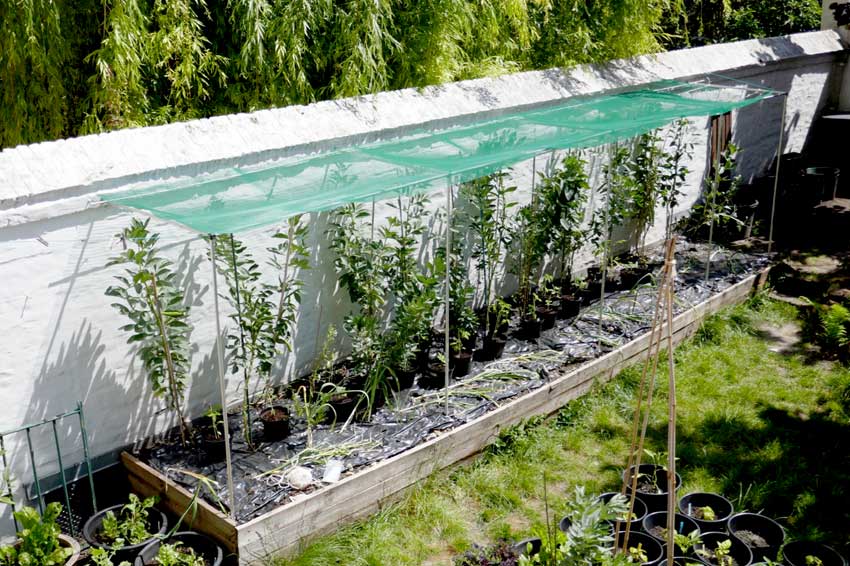 This April was the warmest on record in Belgium and authorities are already warning of a heatwave and drought in the summer. With temperatures already high it is difficult to get small plants started in the garden. Plants should be started outdoors in the shade where possible and where possible shade cover should be created over growing areas. The sooner the better.
The aluminium tube frame over the raised bed in this garden is a simple construction, fastened to a back wall with the front poles driven half a metre into the soil. The frame is held together with plastic corner pieces. String lines are used to hang tomato lines and knotted onto the frame. Various types of shade cover can be used on top varying from 40% to 80% and changed or added to over the summer.
Basil starts quickly at this time of year. This can be done by sowing a feed seeds into modules and kept indoors of sown straight into 2 litre pots to sit outside. To get a decent crop of basil it is worth using the largest pots or containers available and planting a pot full of a dozen small plants. In this way a large bush of basil, about 1 metre high will develop over summer.
With the end of May in site it is worth trying a few tomato plants out in the raised bed or in pots. Plant them deep, burying the stem up to the first 2 leaves (the buried stem will root) and well water. These are small plants with the others stored in the shade. Despite the extreme heat of recent days the slugs and snails are still active at night. It is better to bring on tomatoes in pots until they are big enough to resist snails.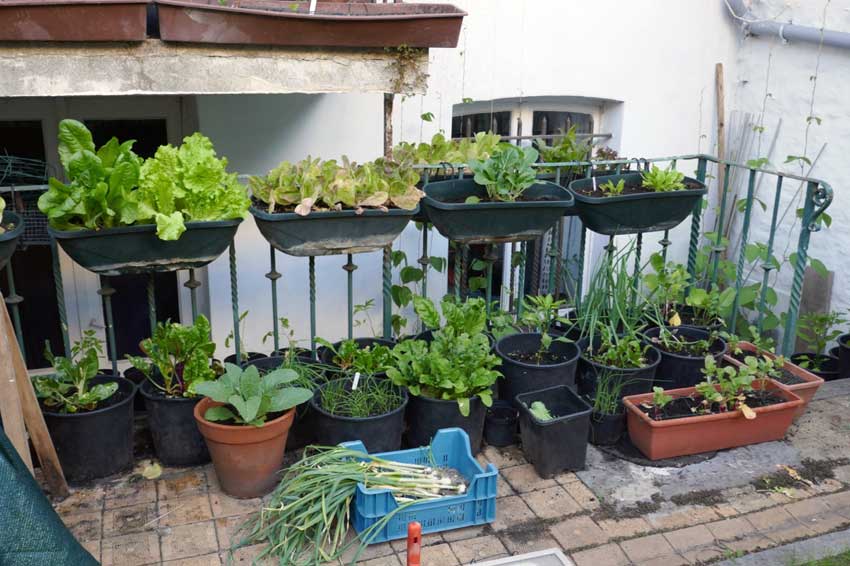 The warnings of heatwave and drought do not bode well for growing salad in containers. While there are number of drought tolerant salad crops they all struggle in heatwave conditions. Some container crops, chards and root crops (onions and radish) manage better in the heat but essentially all summer crops do better if provided with good shade in these conditions.
Garden Shed Links: