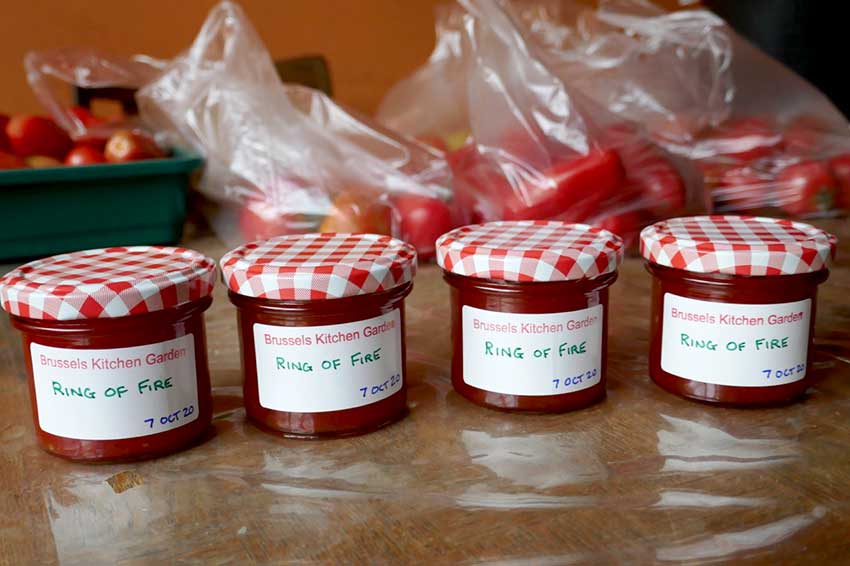 There is nothing better on a rainy cold afternoon than to take one hour and make a batch of hot chilli pepper jam. At this time of the year there are fresh hot chilli peppers so with some basic kitchen ingredients and a set of jam jars, the gardener can become the chef for an hour. Chilli jam is a confection and should only have a gentle touch of heat.
This recipe makes four 125ml jars of jam. It requires 2 fresh red bell peppers, a good clove of garlic, 250ml of sugar and 250ml of white wine vinegar. Pick a medium hot chilli pepper, here Ring of Fire, and for the first batch of jam allow one pepper per jar (4). Combine the sugar and vinegar in a pot on a low heat and stir occasionally until dissolved. Leave sitting on heat.
For a first batch use peppers and seeds to get full heat. This can be adjusted for future batches by removing all the seeds or reducing the number of peppers. It takes several batches to get it right. Chop up bell peppers, chilli peppers and add fine sliced garlic. Combine in a food processor or liquidiser and mix for 3/4 minutes until a fine mix with small flecks of chilli pepper.
Add the pepper mix to the hot sugar/vinegar and carefully bring the pot to the boil, stirring continually. Manage the heat to create a rolling gentle boil and maintain this for 25 minutes, stirring occasionally. For the last 5 minutes reduce heat and stir gently. Notice consistency, slightly watery jam, not treacle, is the desired result. It may take several batches to get this right. Well washed jam jars and lids go into the oven for 10 minutes to sterilise.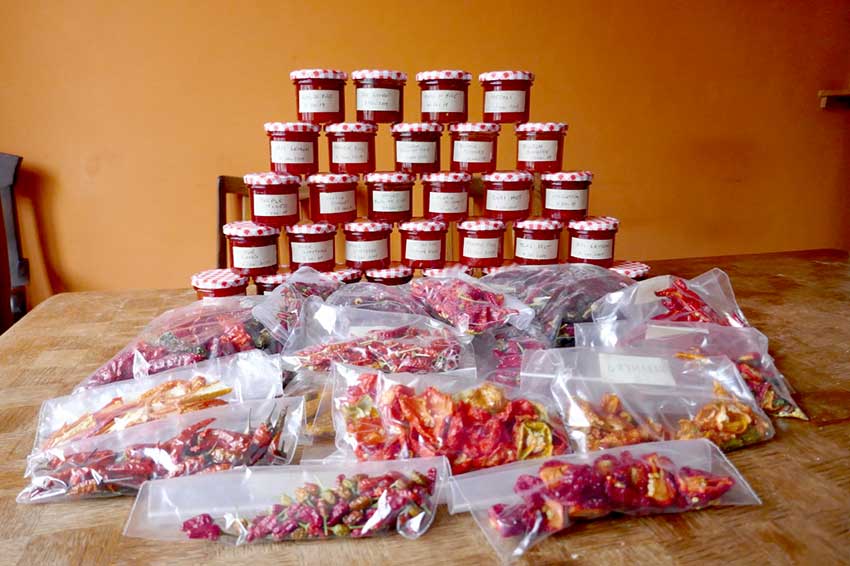 Making jam requires clean equipment and sterilised jars. It also requires caution when handling hot jam. A pouring jug is best to fill jars. Once sealed the jars will keep for a year. The same basic procedure and ingredients will work with most hot chilli peppers. Chilli jam works well in cooking or simply with crackers and cheese. It works particularly well on toast on cold winter mornings.
Garden Shed Links: