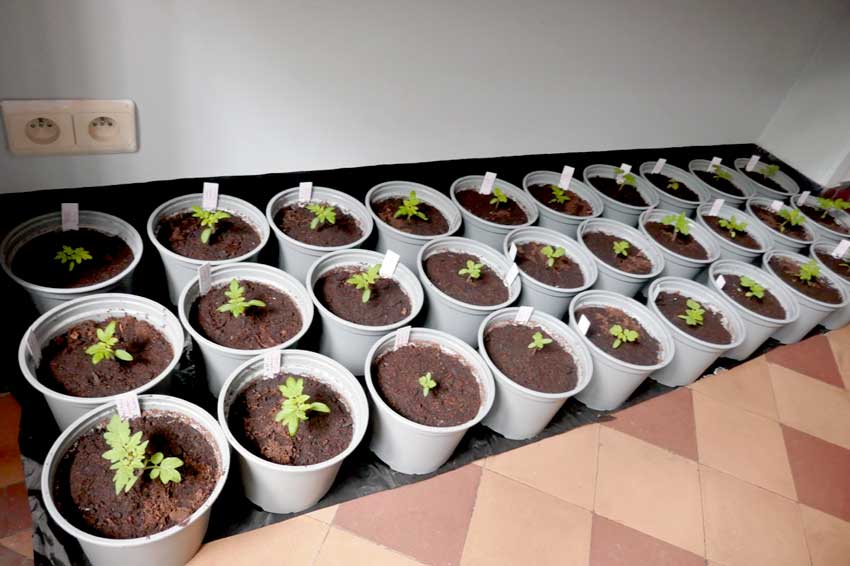 Tomato seeds started now should germinate quickly, between 5-10 days. They are best started in separate pots or modules as the roots of the small plants can be difficult to dis-entangle when transplanting. Potting up the small plants is about giving the plant growing space in step with its growth rate. Tomato seedlings grow quickly and with correct potting up will prosper.
Why not put a new seedling straight on to a big pot? Experience shows the seedlings benefit from moving pots in stages. In many ways, when the plants roots reach the bottom of the pot the plant shifts growth to its leaves and stems so it benefits from some growth restriction. This first stage transplanting (.7 litre pots) should also involve burying a good half of the plant's stem.
Second stage potting up can occur 10-15 days after first potting up, depending on how well the plant is growing. 2 litre pots are ideal for this stage with home made compost in the bottom half of the pot (to act as a long term feed) and clean fresh soil for the top half. The plants can now sit in the 2 litre pots for 4-6 weeks, moving slowly outdoors for planting when the weather permits.
Climbing beans are fast growing at this time and require stringing up. They will grow up to 3 metres in length and can be directed across walls and over open spaces to create shade cover. Strings are gently attached to the plant below a leaf stem, then the string fastened to some point above, either a nail or another cross string. String should be slack and not drawn tight.
May is setting up to be another rollercoaster of heatwaves, deluges and sudden cold temperatures. Gardeners watch the 14 day weather forecast carefully, especially for heavy rain and cold nights. Protecting young plants, moving them indoors at night and out of bad weather, gives the plants the best chance to harden up and be ready for planting out at the end of May, we hope.
Garden Shed Links: