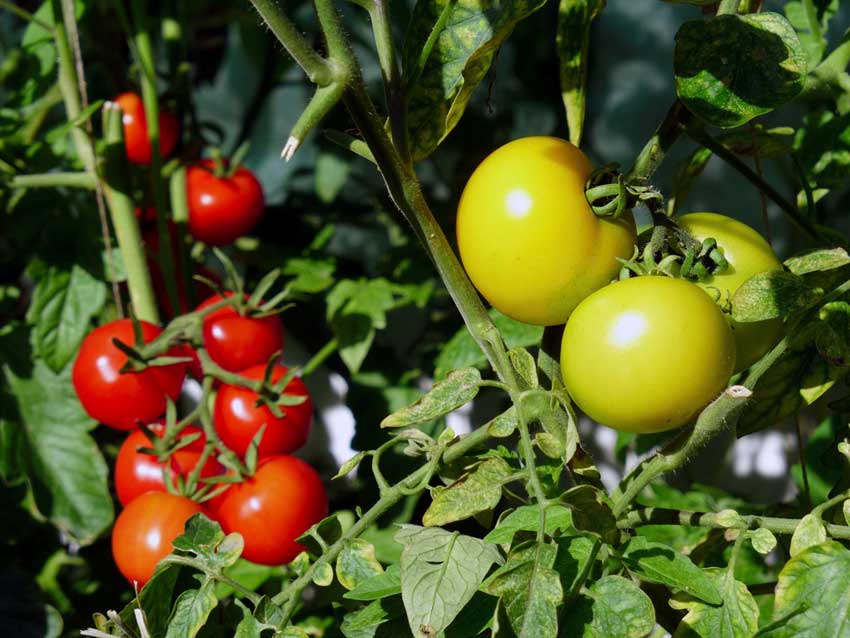 There was a time when growing tomatoes outside in Belgium was considered impossible, what with cold and wet summers. The last few years with heatwaves have changed this. Choosing which types of tomatoes to grow whether in garden soil beds or in pots on balconies or on roofs usually takes a year or two of trial and error. Finding the right regular varieties for your growing situation is well worth the effort.
Tomatoes can be simply considered vine or bush types. Classic vine tomatoes that grow well in Europe include Moneymaker and Lily of the Valley. Each plant can produce up to 40 fruit. These plants grow up to 3 metres long and can be grown in soil beds or large pots, against walls on string or supported with canes. Good yellow varieties include Golden Sunrise and Yellow Perfection.
Bush varieties of tomatoes include cherry types and paste types such as Prince Borghese and San Marzano and usually grow to about 1 metre high. These work well on the outside of raised beds (with vines behind) or in large pots (minimum 10 litres) well supported with canes or with string to walls. The paste tomatoes, including San Marzano, Incas Bush and Roman Candle (yellow) are about the largest suited to city gardens.
Tomato growers cannot resist experimenting with possible new additions to their regular crops. This year 3 new Mediterranean types from Franchi Seeds of Italy are being trailed, Scatalone, Golden Boy and Rio Grande. This is in acknowledgement of the changing summer conditions where before some Mediterranean types did not appreciate wet Belgium summers. They are all growing very well in present heat wave conditions.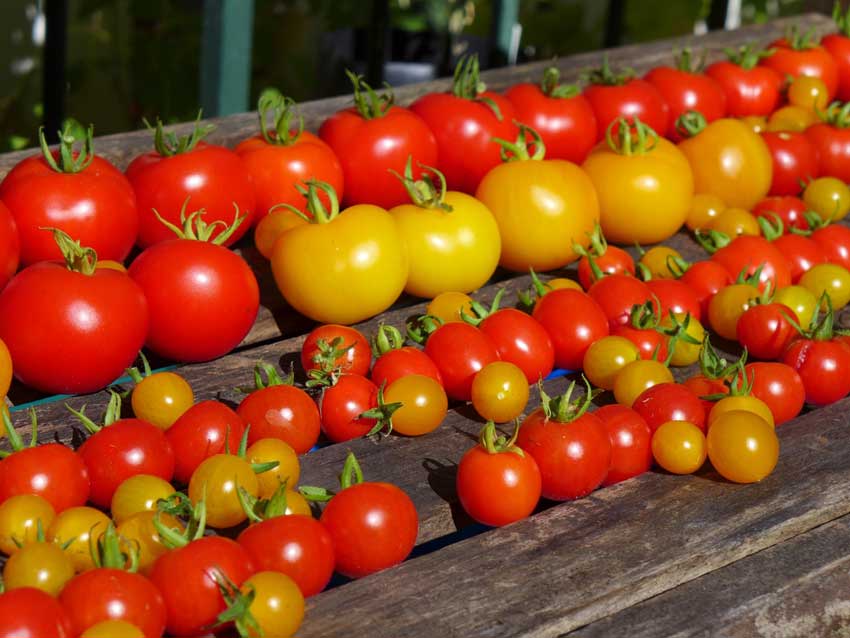 Growing tomatoes in city conditions, whether in a small garden or on a balcony or roof often works best with the smaller varieties of tomato, cherry up to paste size, avoiding beefsteak and the larger monsters. The aim is to produce a good daily supply of fresh tomatoes over the next 3 months and also a good quantity for drying and making into sauce for the winter months that will follow.
Garden Shed Links: