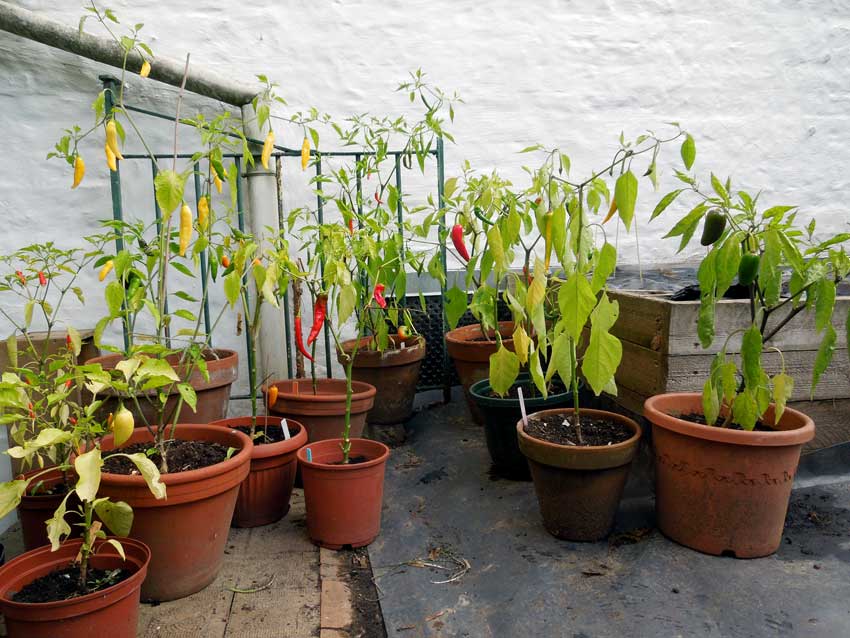 The late bit of sun for October has helped turn the remaining chilli peppers to their end colours. The wet weather after the early summer heat meant none of the plants reached their full potential. This is caused, in part, by the plants sitting in wet soil (even with good drainage). This said, it can be considered a success that a dozen types of chilli pepper produced finished fruit.
A new chilli pepper this year was the Nepali. The small plant produced a profusion of bright yellow hot mini peppers that turned to orange. The Sweet Nardello is a regular medium hot chilli in the garden and while the plant did not produce an abundance it did produce a few well formed peppers.
The Sweet Cayenne is another newcomer to the garden. It is the mild version of the Hot Cayenne. It is an interesting looking pepper and while the plant only produced a few it will be worth trying again next year. The Ring of Fire is another regular hot chilli in the garden. While last year's plants produced a dozen peppers each this year the plants have responded poorly to the damp conditions.
The Calcutta Long pepper was a successful new discovery this year. This hot pepper survived well through the difficult conditions and produced well. Definitely worth trying again next year. The Hungarian Wax pepper is an eastern European pepper that works well in local conditions. Next year will include a number of eastern European peppers, including Siberian, to see how they perform.
The Golden Cayenne pepper was another experiment for this year and while the plant was not prolific it has produced well shaped fruits now setting final colour. The fruits only become hot when fully yellow. The Jalapinos this year have been slow to reach full colour (red) and while there is still time yet they do show the general effect of damp conditions in late summer.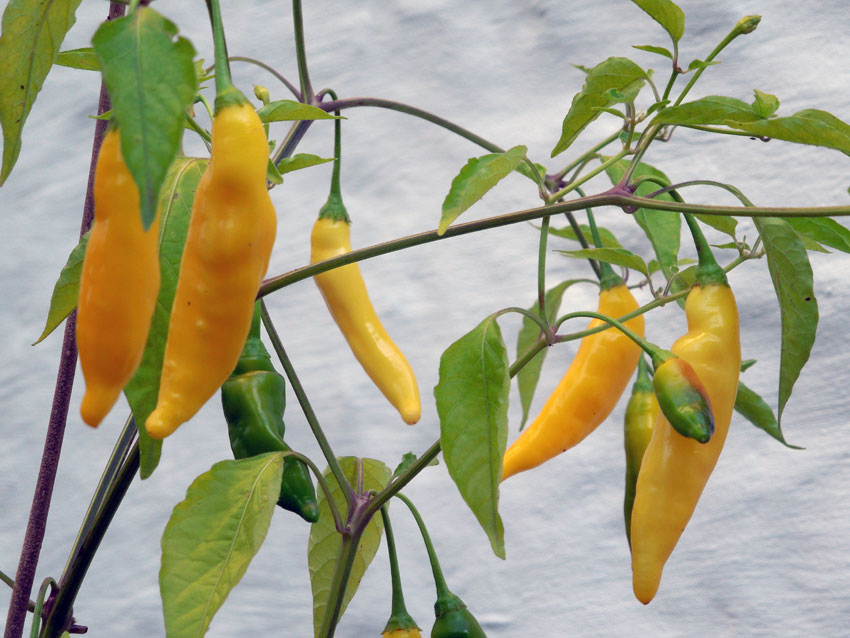 The last of new chilli peppers this year was the Lemon Drop. This unusual South American chilli performed well producing a good number of lemon flavoured hot peppers. The early summer heat wave did get all the plants off to a good start but only for the damp end conditions to slow them down. Still, this late bit of sunshine should finish off most the plants in the next few weeks.
Garden Shed Links: