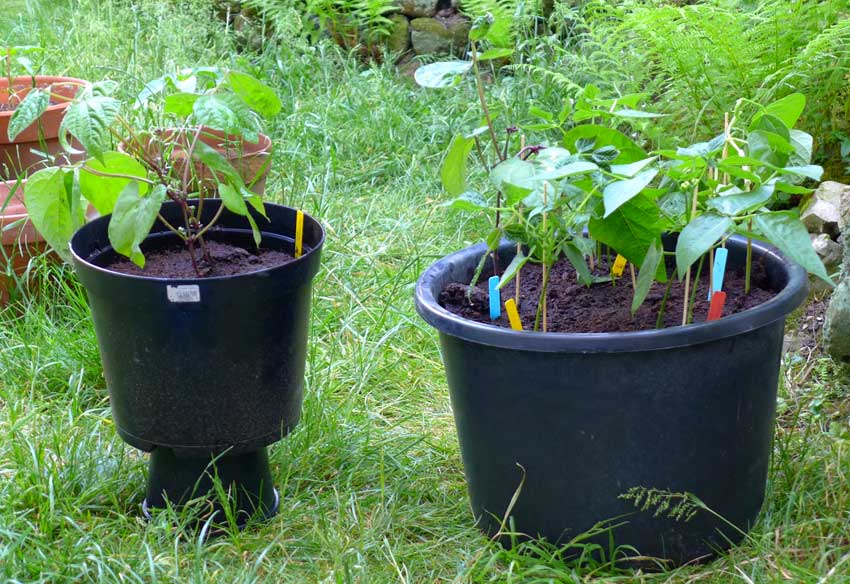 A decent sized pot or container with half a dozen French bush beans is a must have for the small city garden. Even on a balcony or indoors, for the space of one container, it is possible to have a fresh supply of fine green beans throughout the summer. There is slightly more to it than just popping some beans in a pot, but for a supply of fresh beans it is well worth the effort.
Pot selection is important, the bigger the better (here 50cm diameter, 30 cm height). Good drainage is important (cheap containers from builders merchants need drilling). If slugs or snails are a problem then a "wheelie board" is a wise investment. Slugs love bush beans but find it hard to climb up over wheels. The containers on wheels are also easy to move around (mobile gardening).
Filling the bucket requires a lot of soil (a full bag). Ideally start with a good layer of sticks to help drainage, then a layer of home produced compost and some sort of organic feed (if available, not essential). Finally top of with good quality compost soil. Beans are not greedy feeders so most soil mixes work fine.
The trick here is not to just pop some beans in the big pot and see what happens (you can if you want). Better to start them in small pots or boxes indoors and transplant them when ready. Bush beans start in steady moist soil (regular spraying). Left in the big pots they can dry out. By starting the beans separately the best plants can be picked for planting out. If some seeds do not start it is less of a problem.
Bush beans grow into plants about 30-50cm in height. The big pots can support between 4 and 6 plants. Small sticks can help direct and support the plants. The plants very quickly produce beans. It is important to pick the beans at about 10cm before they fully mature as this encourages new beans. A good bucket should deliver two or three handfuls a week over the summer months.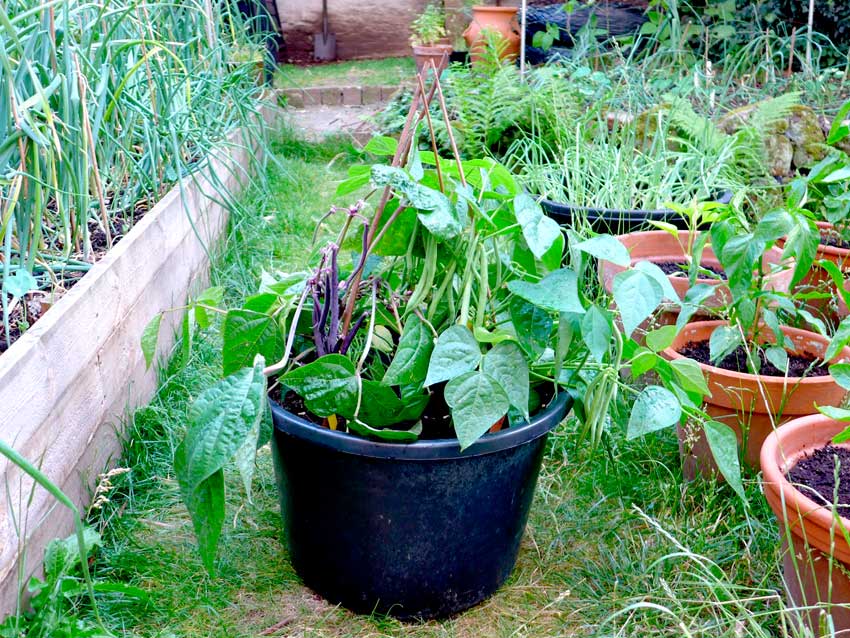 The real science of successful bean pot gardening is to always have a couple of new bean plants starting in the house or some shaded spot. That way, when one of the existing plants becomes tired (after two or three crops) it can be easily removed from the container and a new one settled in. This should keep beans on the table through until winter.
Garden Shed Links: