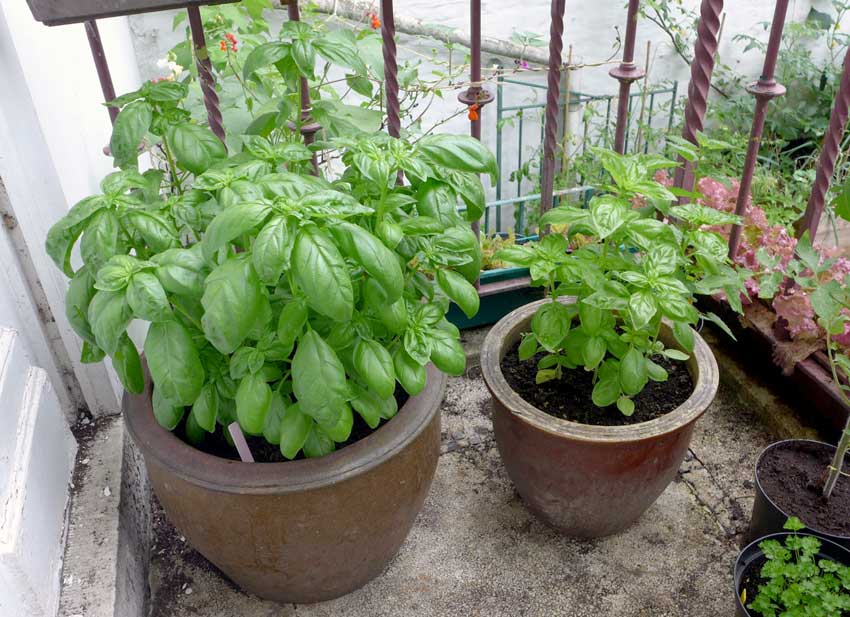 Basil is a must-grow for the kitchen garden. Whether on a windowsill or balcony the plants take up little space and produce great results. In recent years, with changes in the weather, basil has become easier to grow in city spaces. Serious basil growing involves as many plants as possible that are harvested on a regular basis with the large quantity of leaves used in the kitchen to produce pesto.
Basil can be started from March into summer. Early basil is very susceptible to cold nights. Start with 4/5 seeds in a small pot and once established pot up the whole pot to a larger pot. It is worth starting basil once a week over many weeks and at the same time potting up the previous weeks plants. Wherever there is a space in the garden fill a pot with basil and place it there.
While picking leaves for fresh use is lovely the main aim is to harvest a measured amount, probably from several plants, almost on a weekly basis over the summer months for kitchen processing. With the aid of an experienced pesto maker (young people are good) fresh pesto can be made for use in the following weeks. Fresh pesto is stored in the fridge and will keep for a few weeks.
Frozen pesto is far more interesting. It is quite possible to produce enough basil and pesto from a small city gardening space to keep a household supplied in pesto throughout the year. It is worth the expense of quality ingredients, olive oil, parmesan cheese, pine nuts and garlic to make this wonderful addition for all sorts of meals. There are many good recipes for pesto on the internet.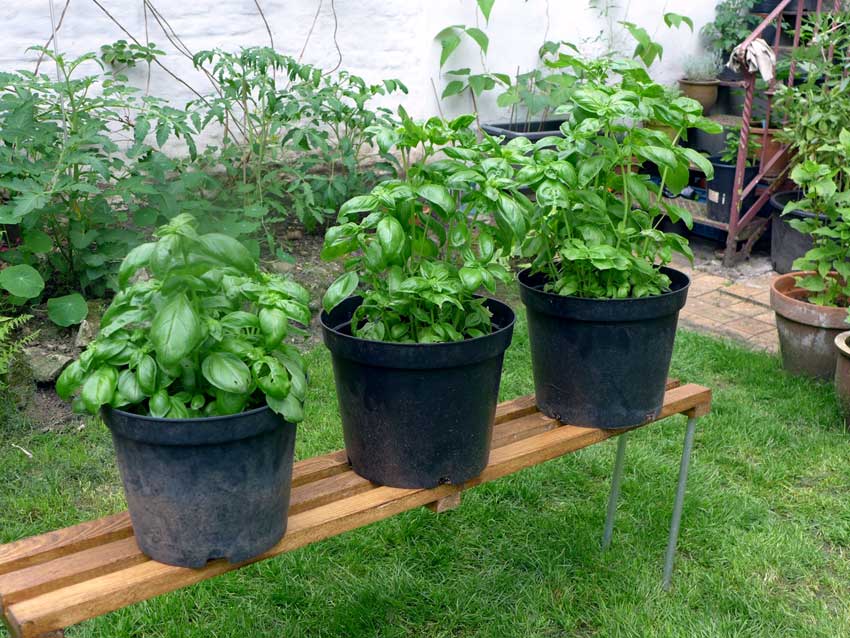 It is quite feasible in a city to consider using a roof space for 20/30 pots to produce enough fresh pesto for a small restaurant. Two or three pots on a balcony will produce several bags of pesto blocks in the freezer to enjoy in winter months. The amazing thing with pesto is that it is one of the very few green things that children and young people actually enjoy eating.
Garden Shed Links: