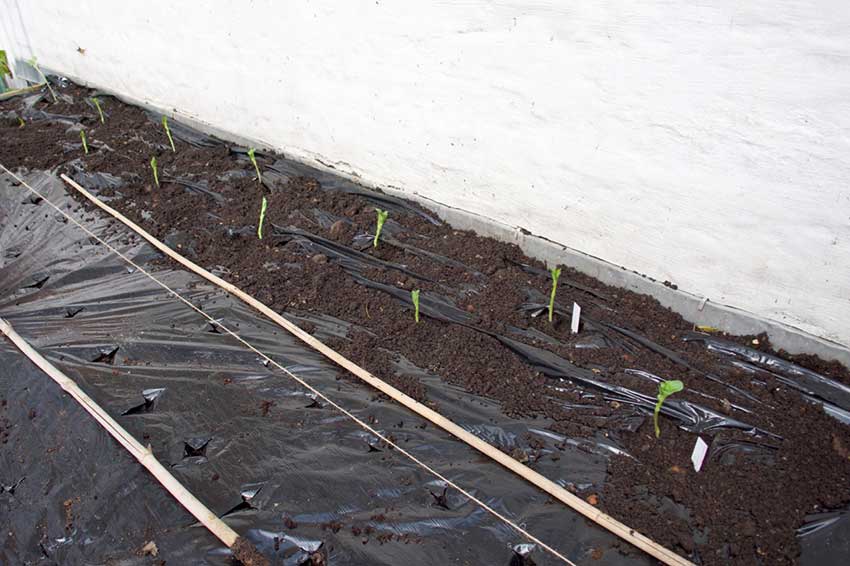 While summer planting the raised bed happens over several weeks, winter planting can all be done in a single day. This double cropping the raised bed can only happen as the bed has been well fed with compost over several years. In this respect the raised bed is a working bed for annual food crops as opposed to a permanent bed made up of perennials.
Covering the bed with a plastic sheet helps keep off ground frost and prevent saturation in heavy rain. Using a centre line, broad beans are planted against the wall allowing space from the garlic and onions. The broad beans have been sitting outside for 2 weeks now. These are planted in 2 rows in an offset pattern and will be provided with support stakes or netting in due course.
The garlic in this raised bed is planted along the centre line with 2 rows of onions planted to the front of the bed. Crosses are cut in the plastic and the cloves pushed down into the soil (with 3 fingers) and covered over. Some say the garlic should be planted just below the surface with a point emerging, here it is pushed slightly deeper with nothing emerging.
Onion sets can be picked up in supermarkets or veg stores. They are planted in just the same way as garlic, cutting a cross in the plastic and pushing the small bulb down into the soil. It is worth planting extra onions in a tray (same for beans and garlic) so spares are available if spaces turn up in the rows. All of these should show their first shoots in the next 2 weeks.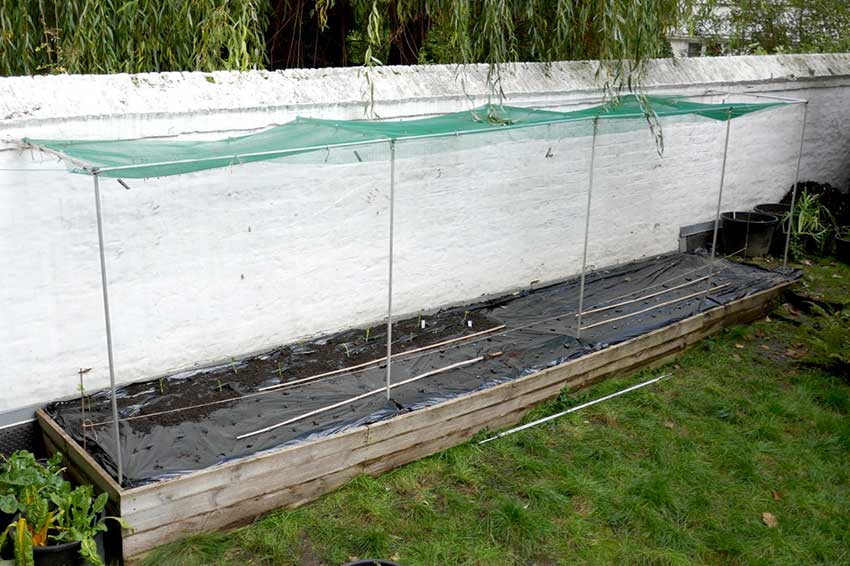 That is the raised bed ready for winter. In the last few years winters in Belgium have begun with several weeks of harsh wet weather and then progressed into milder colder conditions. The plastic sheeting will protect the bulbs from rotting in overly wet conditions while still allowing some water to penetrate. Apart from supporting beans once they are growing, the main work is done.
Garden Shed Links: