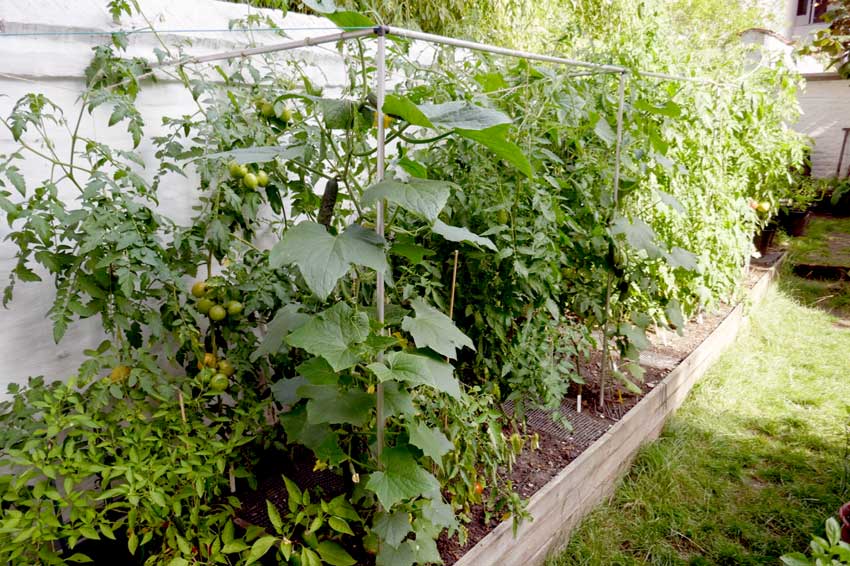 Too much of a good thing is a bad thing. Too much heat and too much sun is not good for plants. During heatwaves photosynthesis slows down and will stop altogether when temperatures rise to around 35C. Thus the garden is full of green tomatoes and semi mature fruits which will ripen when the temperatures drop. This slowdown does mean the garden will produce less than it did last year.
The regular Mediterranean type tomatoes (Borghese, Moneymaker, Yellow Perfection, Golden Sunrise) are all quite late with lots of green fruit hanging on the tired plants. However, the Eastern European tomatoes (Caspian Pink, Anna Russian, Chalma, Druzba), started earlier outdoors are now producing wonderful large tomatoes. After years of the small Mediterranean tomatoes, better suited to small city gardens, these large beefsteak tomatoes work very well in the kitchen.
Basil does like the heat and sun but does require constant attention to keep it watered. As soon as the pots dry out the plants move to flowering. In heatwave conditions daily watering is required. While the plants are not producing as well as last year they are still producing enough for decent harvests of leaves for the production of pesto. Watering in the evening provides a nice light scent which some say deters mosquitoes.
The chilli pepper plants are noticeably smaller than last year though growing well and now all producing fruit. The disruptive weather earlier in the year, heavy rain and even cold nights, did stunt the plants. However, Ring of Fire and Joe Long are proving themselves reliable. The sweet peppers, such as Sweet Cayenne, are also doing well. The Habaneros and hot peppers such as Scotch Bonnet are coming along well enough.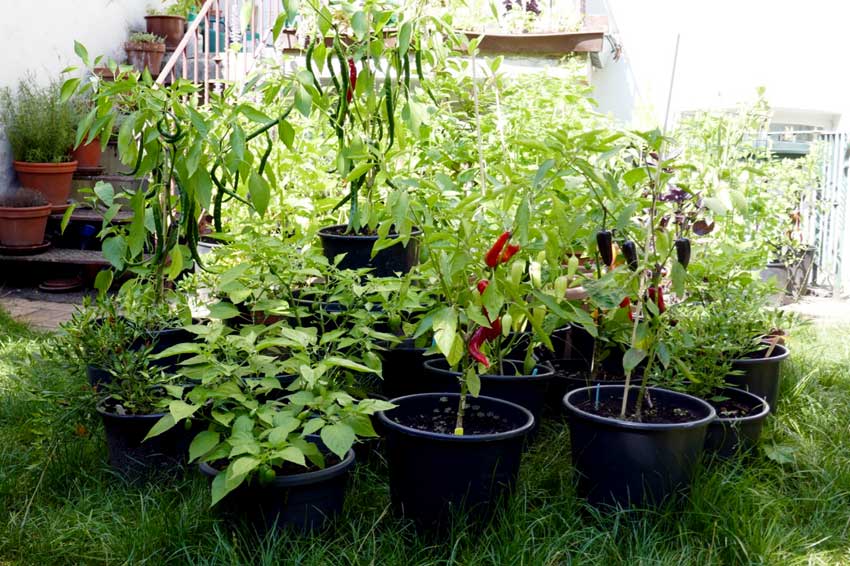 At this stage of the game, moving plants out of direct sun helps. Some shade cover and gentle watering each evening also helps cool the plants down. The raised bed plants do better, only requiring watering every other day. Basically, plants like humans, do not perform well in heatwave conditions. Staying in the shade as much as possible and keeping hydrated is everything.
Garden Shed Links: