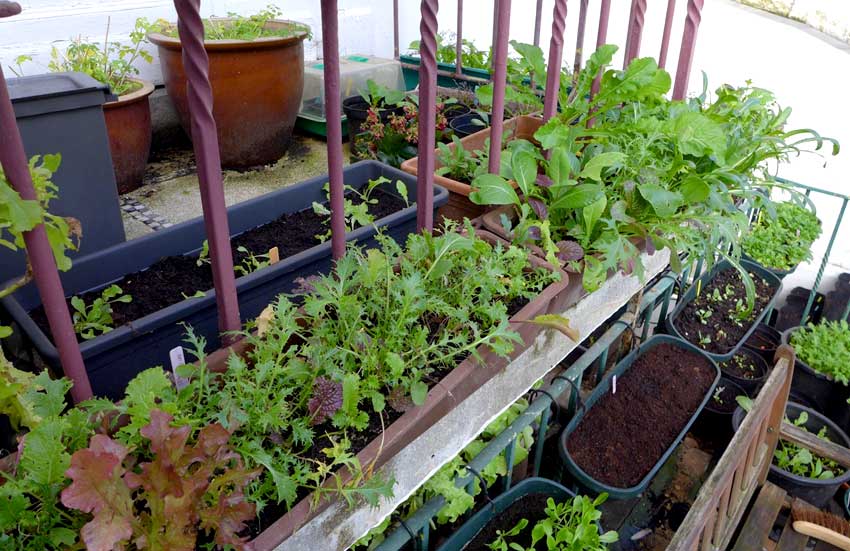 This is the time of year to be starting spring salads in trays and pots. As long as temperatures remain above 5 degrees seeds can be directly sown into containers and left to grow. With the recent mild winters it is possible to grow a good quantity of salad crops year round.
The mainstay of winter salad crops are the mustard leaves, orientals and mizuna. These are sown in early autumn to get the plants establish before cold weather arrives. Once established the plants easily stand through snow and produce new leaves on a constant basis through to spring.
Using trays and pots provides additional protection to the plants over soil beds. In small city gardens with surrounding walls the plants are protected from cold winds which can be the main problem. The containers also require good drainage as excess water will freeze and stunt plants.
There are a large assortment of salad leaves suitable for winter growing, some quite exotic. It can be useful to try out new types in small starter trays with extra protection indoors then outdoors on a windowsill before final planting out in trays or pots.
Using the "cut and come again" method, picking salad types for leaves rather than heads, works best in city gardens. By using a number of trays and containers a form of rotation can be established so when one stops producing a new crop can be started. This also provides a good variety.
With the reported rationing of lettuce in the UK over winter this year, it is worth experimenting with just what can be produced in a small garden or balcony. Leaves can be picked on a daily basis and stored in the fridge for later use. They can also be posted to friends in the UK.
Garden Shed Links: