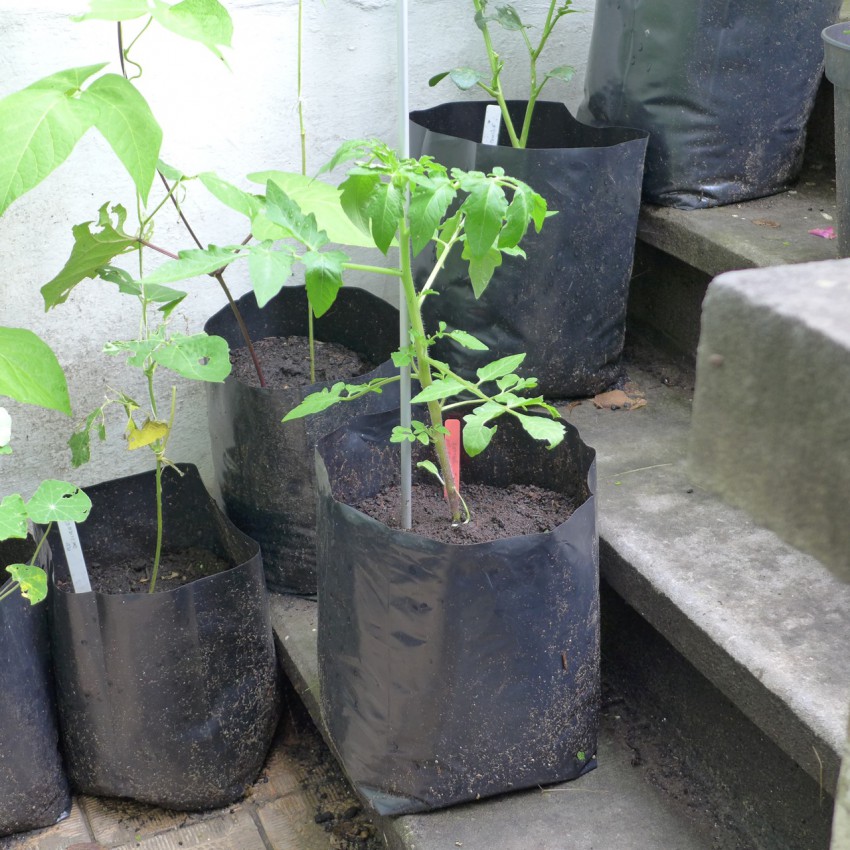 Black plastic poly-pots are a very cheap alternative to square or round plastic plant pots (approximately 10 euro for 25). Originally produced for plant nurseries and hydroponic growers these simple square bags are useful for city gardening in confined spaces.
Made in a range of volume sizes (1-36 litres) the 10 litre bags are an ideal size for most tomatoes, beans and cucumber plants. When filled, the square shape enables bags to sit tightly in rows against walls or on stairs. When not in use the bags fold away easily.
Particularly suitable for climbing plants the bags can be arranged with beans and cucumbers to the back rows and tomato plants spaced in a front row. This space saving, while still providing adequate plant depth, makes these type of containers ideal for roof tops, patios, balconies and even temporary gardens.
A further option with this system is to use the bags as liners for square containers. Here a wooden container (20cm x 50cm) holds 4 bags. This would enable 2 bean plants, 1 cucumber and 1 tomato to grow in a very small space. Using square bags in the square spaces of city gardens makes good use of space.
Garden Shed Links: