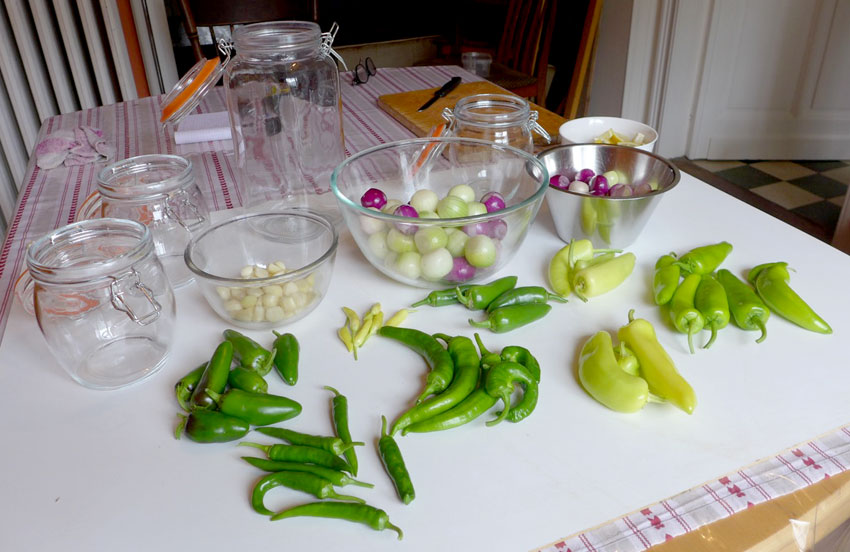 Pickle in the summer, consume in the winter. In some Mediterranean cultures it is common to have a pickled chilli pepper with breakfast on a cold winter's morning. It is said to prevent colds. For a European city garden it is useful to use up some of the summer glut of produce and preserve it for later use.
There is no set rule about which peppers to pickle. For the gardener it suits to remove all nearly grown peppers from the plant to encourage a second flush of fruit in what remains of the summer. In total, 40 chilli peppers were used here from 8 different varieties combining small hot peppers with larger wax peppers. All the peppers were picked before maturity (still green).
Onions and garlic from the garden were also used. The basic procedure for pickling involves water, vinegar and salt (see full recipe below). All the garden ingredients are prepared, washed and dried. Vinegar is added to hot salted water to create a brine. This brine is suitable for pickling most vegetables. Air tight jars are sterilised before use.
The pickling procedure does take a bit of time and requires care and attention to temperatures and cleanliness. However, the end result is quite a large quantity of summer produce packaged up and put away for winter use. The chilli plants in the garden should go on to produce a similar number of fruits over the next weeks, most of which will be consumed on a day by day basis.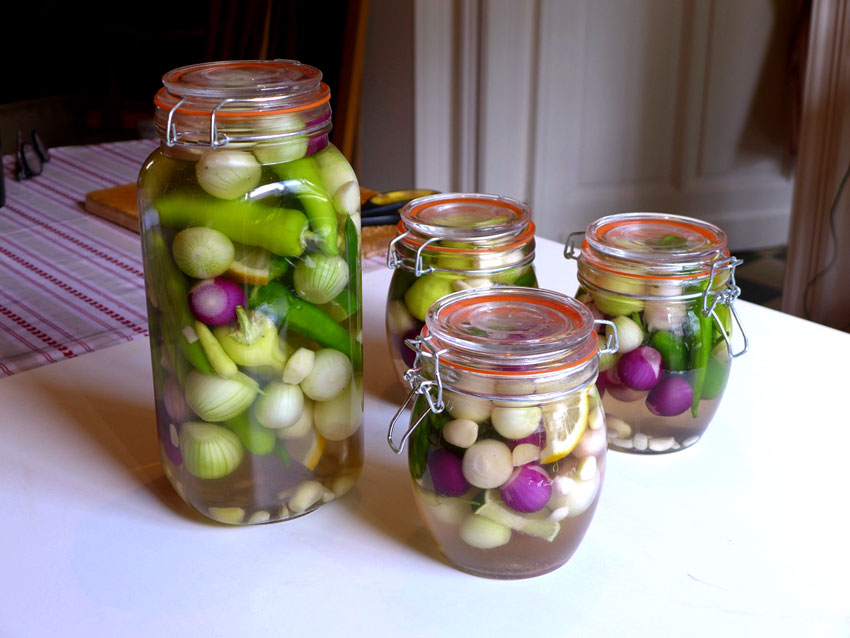 Pickling, done properly, will provide a second harvest from the same city garden. Fresh picked fruits are used during the summer months and pickled versions are used over the winter months. There is evidence moderate consumption of pickled vegetables is good for health. A pickled pepper on a winter morning may very well ward of colds.
Related Reading Links:
Preserve red hot chilli peppers all year
Recipe by Alexis Baghdadi
Garden Shed Links: