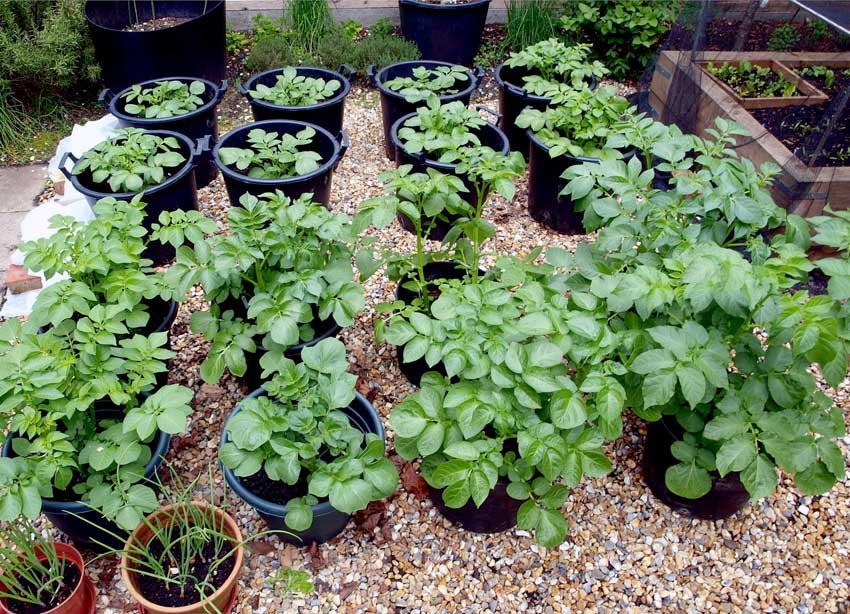 By Mark Willis.
Images in article © Mark Willis.
Most people think that growing potatoes needs a lot of space. It doesn't. You can grow potatoes on a patio or balcony or in the smallest of gardens, if you use suitable containers. Potatoes are easy to grow, and deliver good value for space. Furthermore, there are few things in life more satisfying that digging-up a crop of lovely home-grown potatoes!
The key issue with growing potatoes in containers is maintaining the correct level of moisture in the soil. The soil/compost in them needs to be kept moist (but not wet) all the time, so frequent watering is probably going to be necessary. If the soil becomes too wet the potatoes may rot, but if it's too dry you will get a very small crop which will most likely fall victim to the common skin-disease called Scab.
Prepare your seed potato tubers – perhaps by chitting them, which will give you quicker results after planting. Chitting means leaving your seed tubers in a cool, light, frost-free location and allowing them to develop shoots or chits. These chits should ideally be short (an inch or two), and dark-coloured, not long pale and spindly.
Put a 2-inch (5cm) layer of compost into the bottom of the pot. Sprinkle on a generous handful of pelleted chicken manure or proprietary potato-food. Cover the fertiliser with another 2-inch layer of compost. Place your seed potato tubers in the compost, with the "Rose" end (the one with the majority of the shoots) facing upwards. Settle them firmly but gently into the compost. If the compost is very dry, water it with a watering-can equipped with a fine rose, but don't make the compost very wet. Cover the potatoes with compost to a depth of approximately 2 inches.
Once you see the shoots emerging above the compost, cover them with another layer of compost. Keep repeating this until the top of the container is reached. You may need to start watering at this stage too. Once the leaves begin to open out, most of the work has been done. From this point onward it's just a case of keeping the containers properly hydrated, so you need to check this every few days.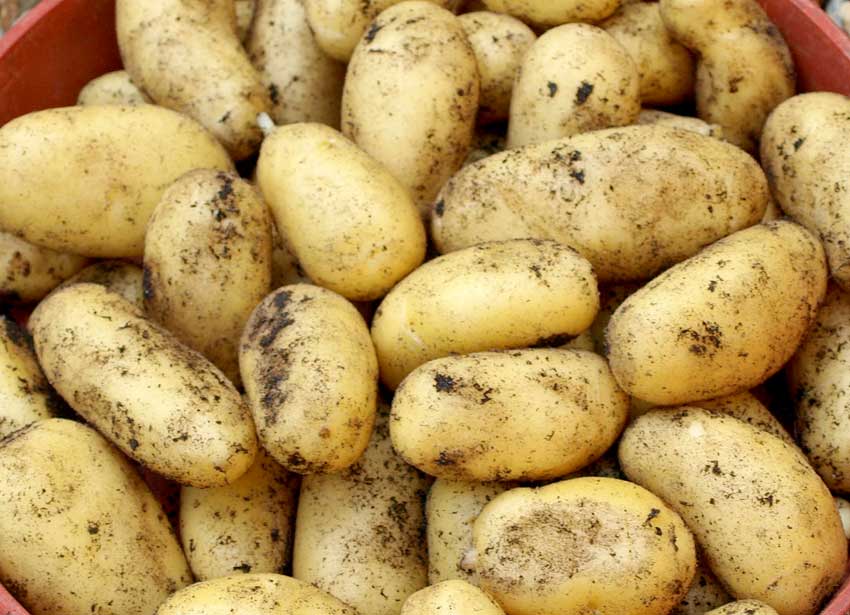 How do you know when the potatoes are ready for harvesting? One sign that viable tubers have formed is the appearance of flowers on the plants. This is not a foolproof indicator though, because not all varieties produce flowers. A better indication is that when the tubers are mature the foliage (sometimes called "haulm") begins to go yellow / brown, flops over and dies down. It the foliage is still upright, then the plant is still growing. Some people like to leave their potatoes until the foliage has completely died down, to maximise yields, but I prefer to harvest a bit sooner so that the potatoes are only just mature, and hence not too densely-textured.
Garden Shed Links: