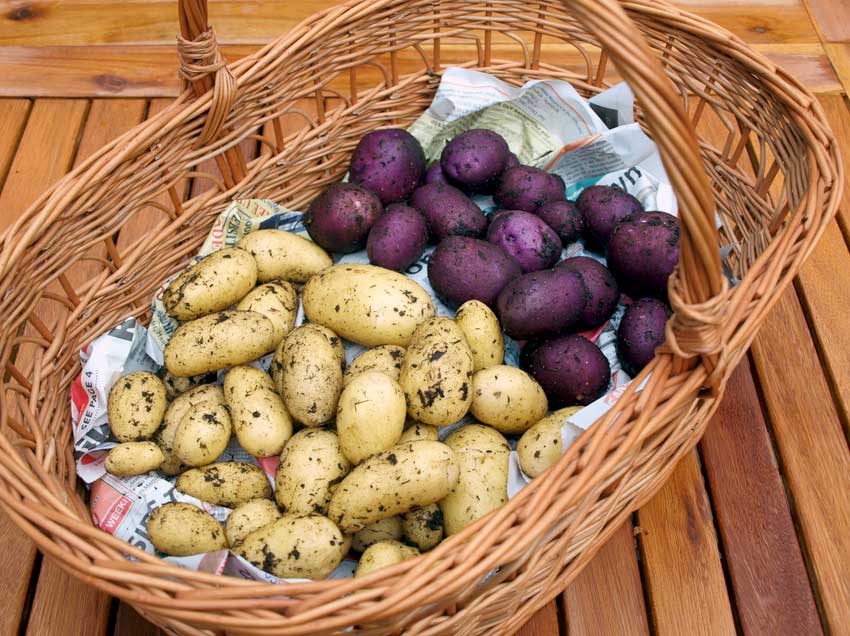 By Mark Willis.
Images in article © Mark Willis.
Most types of potato fall into one of three main categories related to their harvesting times. No prizes for guessing that a "First Early" type is normally harvested before a "Second Early" type! The term "Maincrop" also gives us a clue that this type is the one with the biggest expected yields. First Early potatoes are ready to harvest in about 10 weeks while Maincrop potatoes take about 20 weeks.
First Early potatoes are the classic "New Potato" types. They are the first to be planted and mature very quickly (typically 10 weeks). This type is often harvested when the tubers are very small, at which stage their flesh will be light and insubstantial and their skins so thin that they can be rubbed off with the fingers. The expected yields are small – maybe 500g per seed-tuber.
Second Early potatoes are often (though not necessarily) planted at the same time as the First Earlies, but take longer to mature (typically 13 – 14 weeks). The tubers they produce are usually a bit bigger and firmer than the First Early types, but still tender. A typical yield would be 700 – 800g per seed-tuber.
Maincrops (sometimes sub-divided into "Early Maincrop" and "Late Maincrop" types) are usually planted later than the early varieties and take longer to grow (typically 20 weeks or more), which means they are harvested in late Summer or early Autumn. Their big advantages are that they produce much heavier and bulkier yields, and the tubers store well. Grown in a container, a typical yield would be approx. 1.5 – 2kgs per seed-tuber.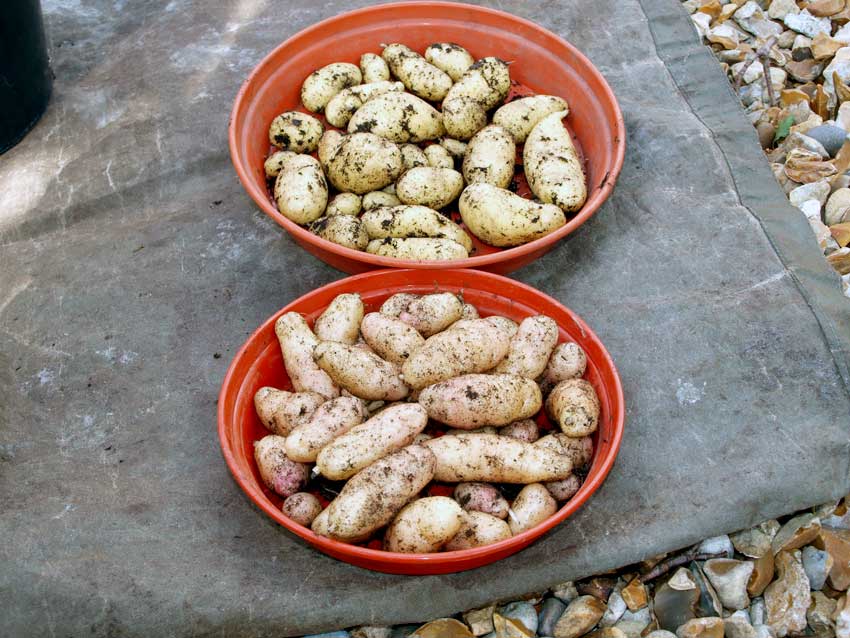 The flesh type of potatoes can differ markedly from variety to variety – some are "waxy" (with close-textured, smooth flesh), and some are "floury" (with flesh that goes soft, crumbles or breaks up when cooked). A firmer, waxier, variety is best for boiling or for making chips / French fries. When buying seed potatoes always enquire about this – a reputable supplier should be able to tell you what you need to know.
Garden Shed Links: