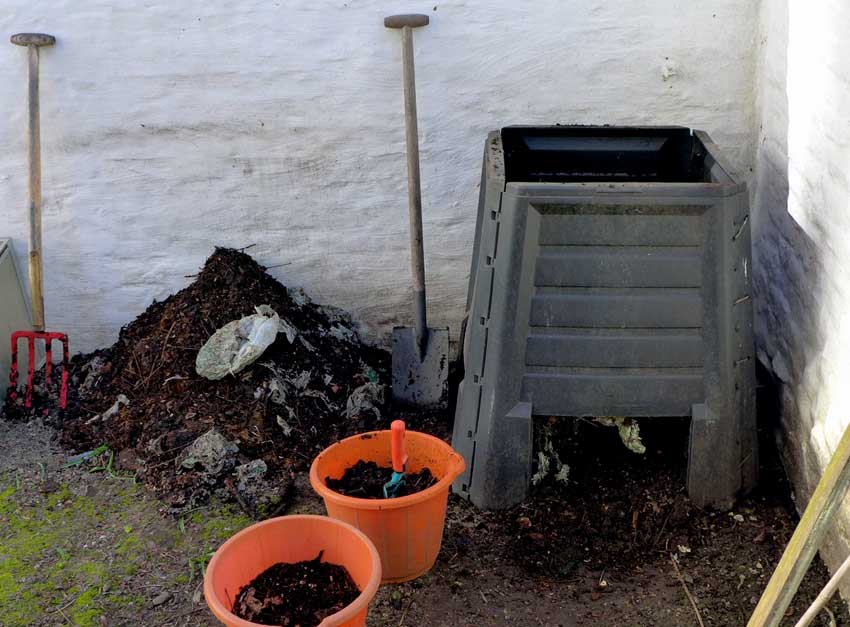 Making your own compost in the garden requires the space for a compost bin, with space beside it to turn over the compost (2 square metres). Using a simple process a compost bin can provide half a cubic metre of rich humus each year, excellent for feeding a raised bed or for filling pots and containers. The quality of this material for growing plants is far superior to shop bought soil.
The science of composting simply involves combining carbon and nitrogen rich materials with water and air and leaving for several months. Un-cooked kitchen vegetable waste is nitrogen rich while clean cardboard and straw (from pet shop) are carbon rich. Add all garden waste and turn once a month. The sign of good health in a compost pile is the presence of worms.
In the autumn or early spring it is worth adding some raw kitchen waste, mixed with straw, in a trench in a raised bed. This will slowly compost over the summer. When turning the compost pile, several bucket loads of rough compost can be added to the top of the raised bed and forked into the top six inches. This materials acts as a soil conditioner, a fertiliser and as a natural pesticide in soil.
Ideally, a compost pile should be turned over and mixed once a month. Each time this is done finer material can be removed to fill pots and containers. This is particularly important for containers as shop bought compost tends to loose its vitality over two months. Sifted compost from the autumn can be kept in bags until use in containers in the spring.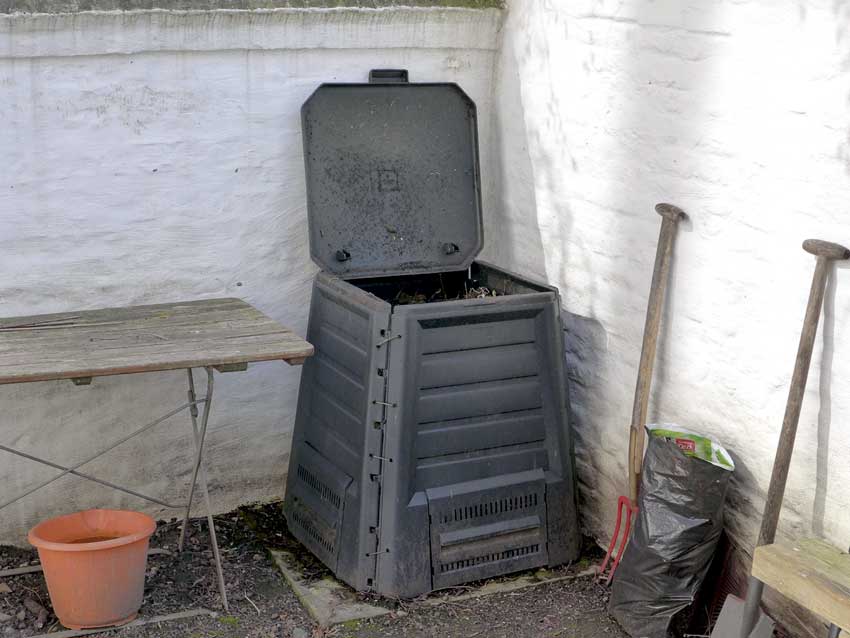 Garden composting has a rhythm to it. At the end of summer compost material is removed to feed the raised bed and to make space for summer crop material. In early spring potting soil is removed. Turning and sorting the compost on a cold February morning is good exercise, but done well, should also produce another load of potting soil in May.
Garden Shed Links:

City links (assistance and grants for composting):
WORMS ASBL website (wormsasbl.org)
Brussels Environment (bruxellesenvironnement.be)
Brussels Commune Compost Bins Grants (brussels.be)
City of Brussels Eco Advice (brussels.be)