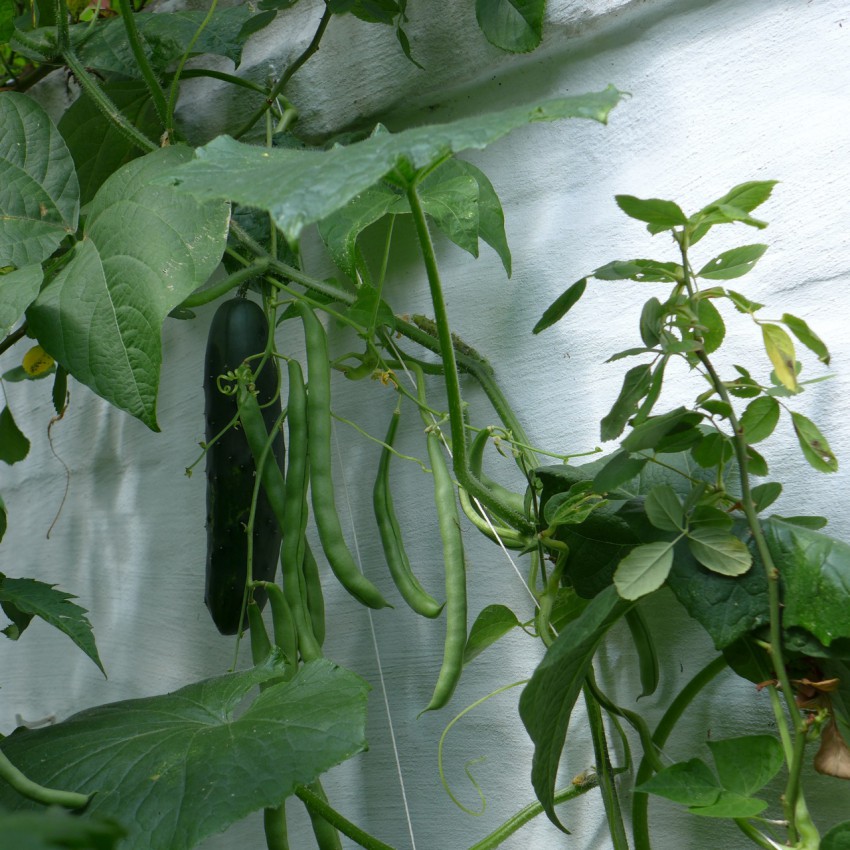 City gardens are always restricted in their exposure to direct sunlight. Fortunately this is not a problem for vigorous climbing plants such as runner beans, cucumbers and vine tomatoes. These will grow quite adequately in shade and climb by themselves to reach the light above.
Vertical gardening is the art of training plants to use free vertical space when horizontal space is restricted. Using string or wire on walls or fixing aluminium support structures around beds enables climbing plants to grow naturally to their full extent (up to 3 metres).
Creating support structures for plants in a walled garden can be as easy as fixing some nails and string. It is best to arrange strings so plant leaves are not hard against walls. Ideally, support for plants against walls should be about 6 inches off the wall.
There is a general misunderstanding that plants require full sun to grow. This is not the case. Very few plants (cactus) actually enjoy full sun. Most fruiting plants require partial sun (daylight), steady warmth and adequate moisture to produce their best. Beans and cucumbers will produce in shade, and to a lesser extent, tomatoes.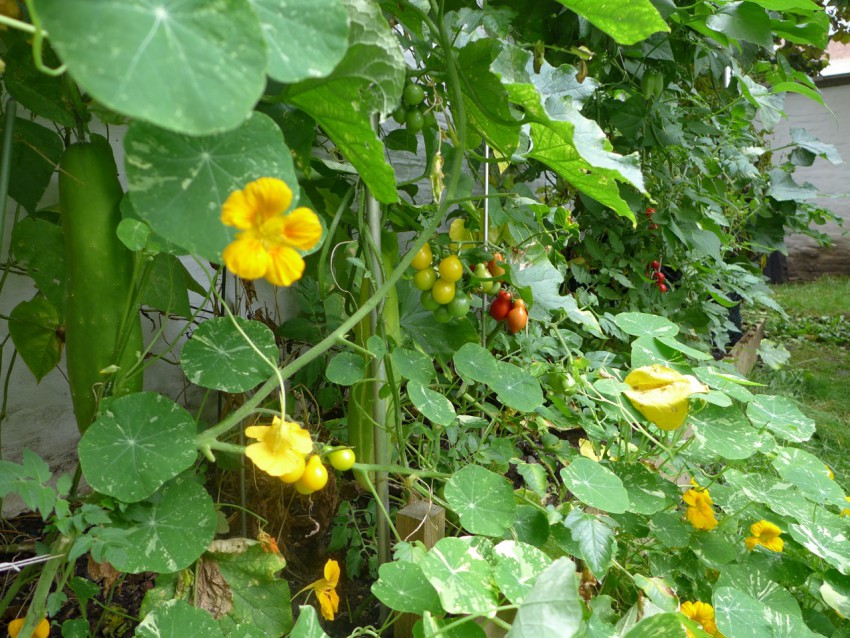 In a particularly shaded garden it is necessary to try and provide for the highest climbing opportunity for the plants. Garden canes may not be sufficient. Fixing a couple of wires or heavy string well above head height can support a good number of plants below.
Garden Frames
For aluminium tubing:
Hobby-aluminium (French/Dutch)
32, rue de Birmingham – 1080 Bruxelles
Hobby-Aluminium website (hobby-alu.be)
For plastic connector pieces:
Mainframe Direct (UK) – Joint pieces
Mainframe Direct website (mainframedirect.co.uk)
For plastic ground spikes:
Organic Catalogue (UK)
Organic Catalogue website (organiccatalogue.com)