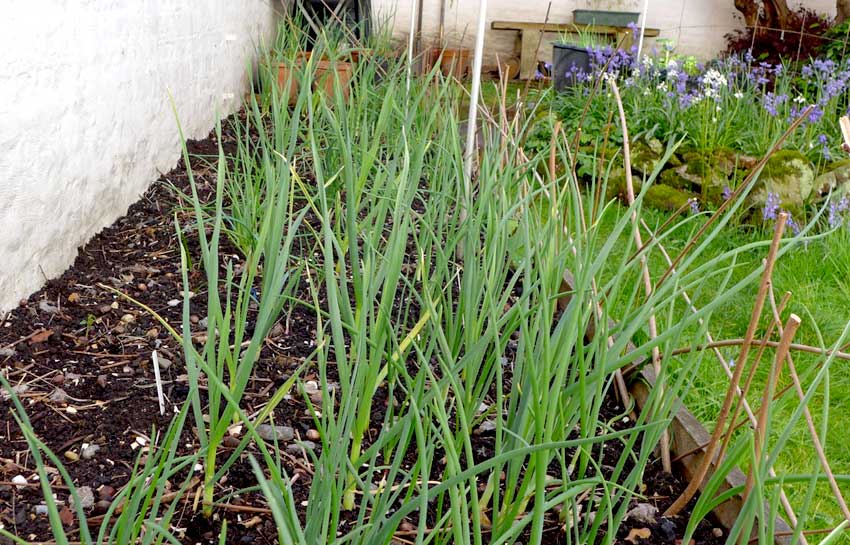 It is not too late to plant onions this year. They are particularly suited to raised beds with good drainage. Here a variety of onions and shallots are planted against the wood side of the bed and garlic planted along the middle of the bed. All have proved remarkably resilient to the slugs and snails in the garden.
This year the raised bed is being planted with a space along the wall for the later addition of tomatoes and cucumbers to grow up and over the garlic and onions. A range of onions and shallots have been planted in patches across the bed for easy harvesting later in the summer.
This year is an experiment in growing onions and garlic in both pots and in soil. Most of the onions grown in pots will be harvested before maturity and used like spring onions. With over a dozen varieties of onions being trialled so far the plants are all growing well and should soon be ready for first picking.
The garlic has all started well, both in pots and in soil, with practically every clove planted producing a healthy plant. These plants will produce "scapes" in June, which are the flowering stalks. These will be removed and used in the kitchen. The garlic bulbs should be ready by about October.
Shallots work well in standard sized pots (20cm diameter) and will separate into bunches of shallots filling the pots later in the year. Some of the onion types grow like larger spring onions and should also fill the pots. With the addition of leeks in pots (work in progress) the aim is to get a full range of the allium family growing in both pots and soil.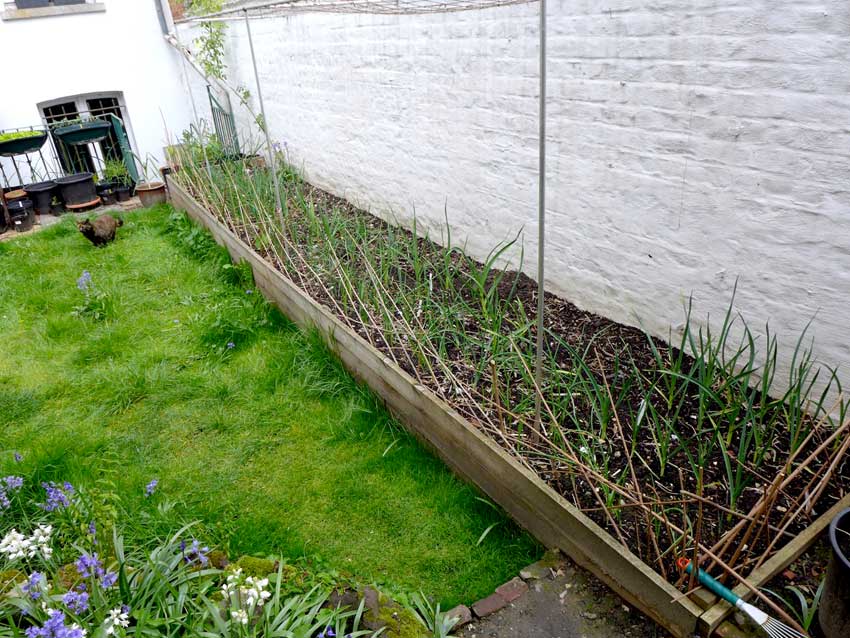 So far so good with the raised bed experiment. All the plants are growing well. The cat proof fence is installed each year in early spring to let the young plants get started. As the cat does not appear comfortable with the smell of the garlic and onions this may be another reason for some gardeners to grow these crops.
Garden Shed Links: