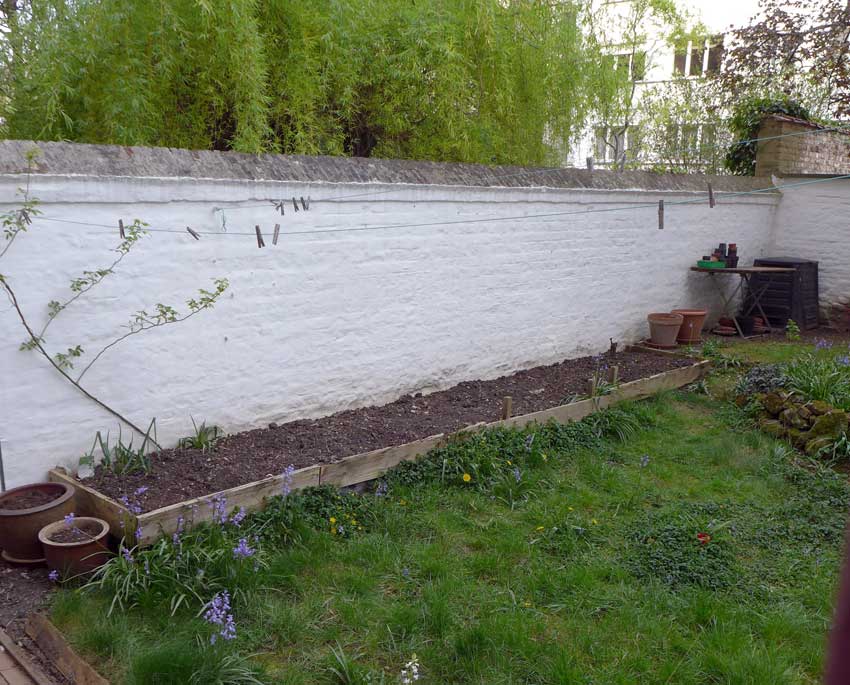 The raised bed in the garden is a simple soil filled wood construction 5 metres long by 1 metre wide. The wooden boarding used is "sarking board" (175mm by 35mm) usually used to line roofs for tiling. This is a long lasting rough wood which is un-treated. The sacking boards here have been in place almost 10 years and are now in need of replacement.
As the soil base in the garden is heavy but pliable, the wooden boards are held in place with a series of 50mm square posts driven about 300mm into the ground. In constructing the frame, the first corner post is positioned and the side board screw fixed. The first long front board is positioned and additional posts driven in. Along the front boards 5 posts are positioned approximately 1 metre apart.
The supporting posts are driven into the soil with a rubber mallet and should be left showing above the boards. This excess post can be sawn off when the frame is completed.
This bed is designed 1 metre wide as the maximum arm length access across the bed. As the bed is positioned against an existing wall, access to the back (wall side) of the bed is facilitated by leaning onto the wall. It is important to ensure a comfortable arm length width for the bed to avoid the need for stepping onto the completed bed. It is better for the bed to be narrower for access than too wide for easy working.
Recommended Reading:
See Raised Bed Gardening for filling instructions
Generally, a raised bed, to be useful and productive should be a minimum of 2 metres long, 1 metre wide. In this situation the garden layout suited having the bed 5 metres long. In most cases a series of raised beds, for example, 4 metres by 1 metre provides a good range of alternative growing options. Several beds are better than one large bed.
A raised bed constructed in this fashion can also work free standing with 4 wood sides and additional posts. A post every metre is a good measure. A free standing bed can also be constructed on a solid surface such a concrete path, patio or on a roof surface. The depth of the bed on a solid surface should be doubled (2 board high) with extra post support and possibly cross bar support.
Situating a raised bed on any solid surface requires consideration for protecting the surface underneath in the long term. Most roofs can support the weight of such a bed quite easily. On a solid surface consideration has to be given to ensuring good drainage to avoid water-logging. There are a number of membrane liners for use in this situation.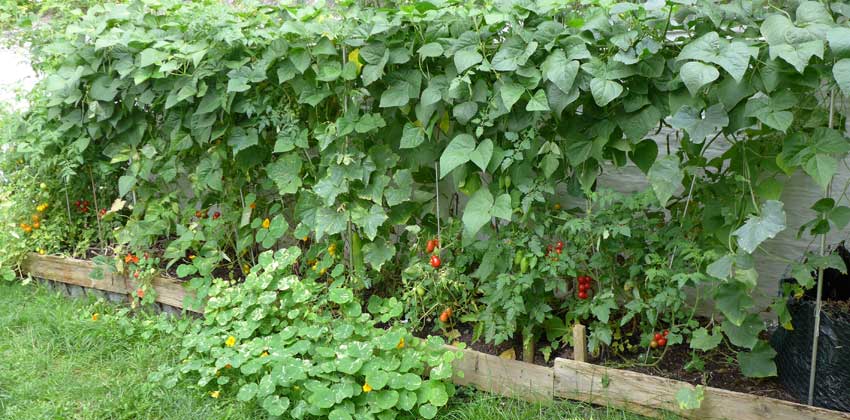 When positioning a raised bed, in the ideal world it should be done with careful consideration to sun movement and exposure. This is not always possible and as a raised bed can improve the growing potential of most areas in a garden, they are to be highly recommended in most situations.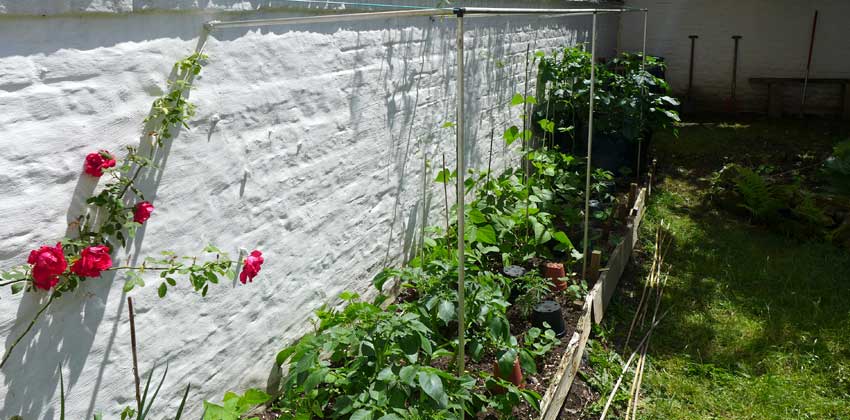 There are a whole range of kits for constructing raised beds, many which simply bolt together. These can be expensive and at times it is better to build a frame tailored to the space available. Ornamental wood frames are available using heavy wooden beams that self support but are also expensive. If investing in good quality frame it is worth considering access holes in the lower frame for later water supply access during construction.
A raised bed is generally superior to a normal garden bed and helps address soil conditions and the drainage problems that often exist with heavy soils.