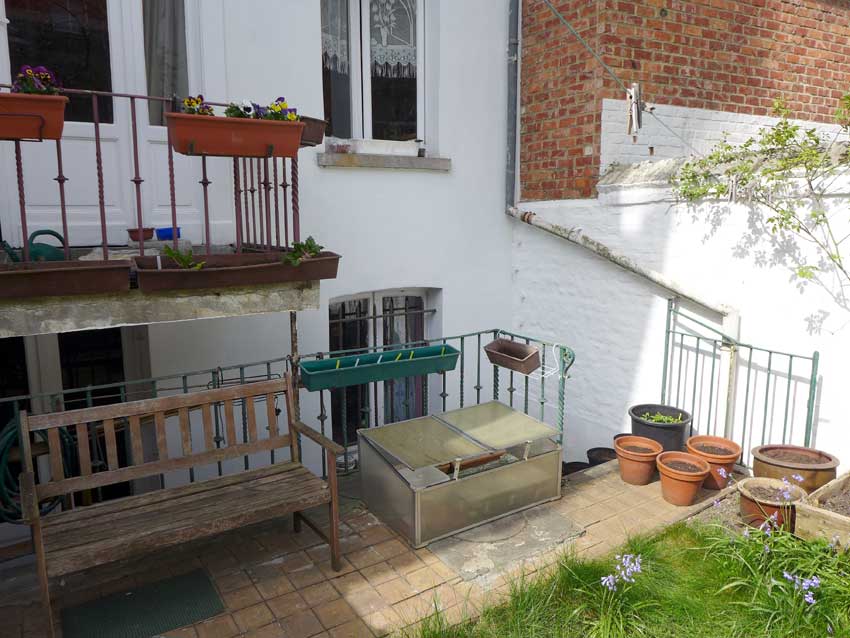 In a lot of old townhouses particular to Brussels there is a basement garden door below ground level originally accessing kitchen areas in the basement of the house. This creates a corridor approximately 1.8 metres below ground level that runs the width of the building, with stone stairs at one end up to the garden and with the balcony above covering one half of it.
The basement corridor is approximately 4.5 metres in length with the balcony above covering 2.5 metres of it. The stairs rise in two sets of three with a 1 metre square platform as a mid landing between. This mid landing is 1 metre below the garden ground level.
The basement corridor is backed on one side with the building wall (with restricted head height for 2.5 metres) and with a wall and metal fence atop on the other side facing into the garden. Where the corridor emerges to reach the stairs their is un-limited headroom for growing. In the stair corner the garden wall provides un-limited headroom for planting.
The covered end of the basement corridor lends itself to garden tool storage with wall hanging the main option. However, one section of the corridor under the balcony does receive sufficient exposure that beans, gourds, tomatoes and cucumbers will grow successfully. This requires introducing plants started and brought on in other parts of the garden during spring.
The open end of the basement corridor where the stairs are located provides an excellent growing area as it enjoys a good exposure and has no limit on headroom. With the use of wall fastenings and string lines running between the garden wall and the balcony fencing above, an excellent area is created for experimentation with elevational planting (except when you have a broken foot).
Put simply, planting containers can be located along the house wall below ground level or slightly elevated on supports to create a lower ground run of 6 large pots. The two flights of three stairs are suited to single or twin pots (6/12) and the mid landing is particularly suited to a grouping of 4/6 large containers.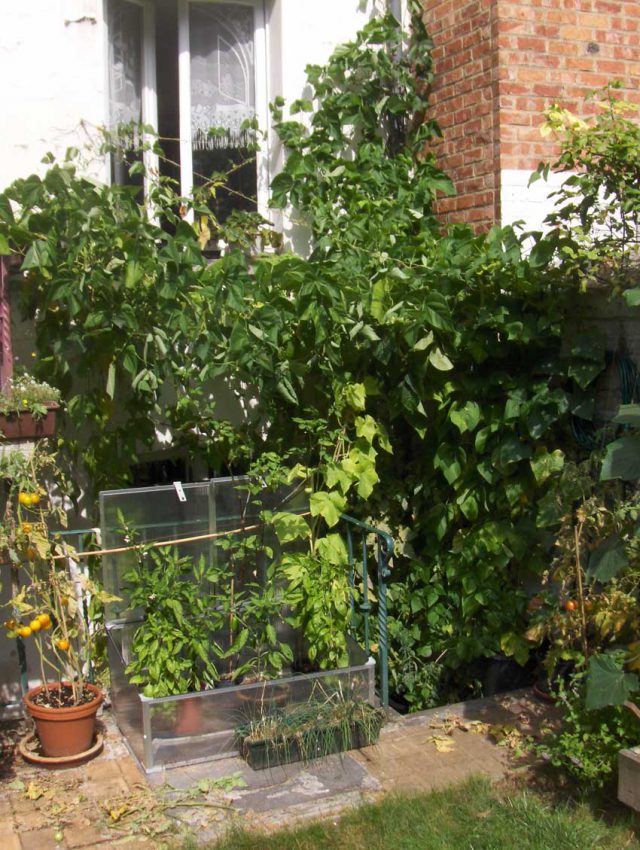 This area of the garden demonstrates a great deal of the problems and potentials for city gardening. The wall areas which would otherwise be considered un-usable or inaccessible can, with a little ingenuity turn into very productive vertical gardens. The proximity to the house lends the area to water recycling systems or automated irrigation.
The aim of this blog is explore and compare vegetable gardening between a raised bed situated on garden soil with container gardening on a standard balcony and stairs, and a basement corridor and stair well. With these three areas as the main focus of this blog it should be possible to examine the potential of a small kitchen garden in a city.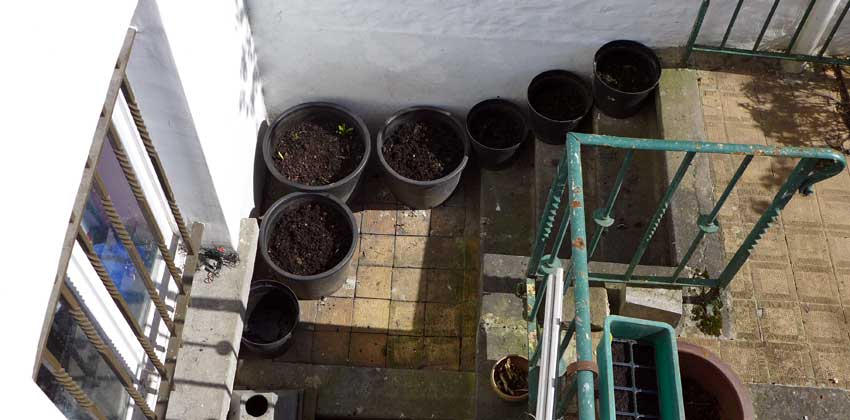 Garden Shed Links: