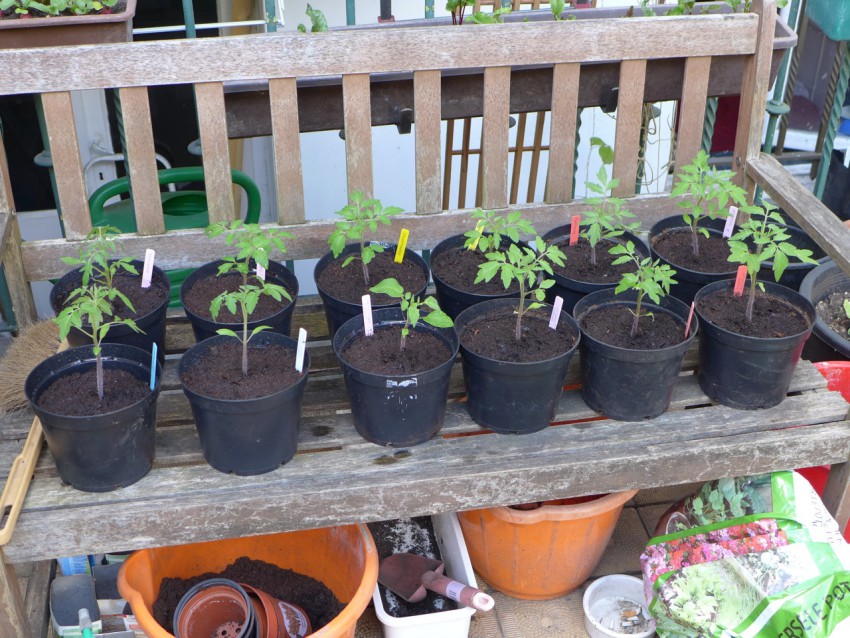 Gardeners love potting up (moving plants from smaller pots to larger ones). It gives them a sense of achievement. It is also important in confusing spring weather. When the forecast promises a series of dry warm days the rush is on to pot up smaller plants so they can fully use the good growing conditions.
What soil to use. Potting soil can be considered general or universal (which can be slightly heavy), or soft for starting seeds. These can be mixed in pots and topped off with softer compost. Here some home made compost is used in the bottom of the pots and universal for the top half.
Small plants are ready for potting up when their leaves extend over the sides of the pot. It is always interesting to see exposed roots in the soil. Ideally the roots should just be emerging around the edges of the soil mass (as shown) but not wrapping themselves all around the outside of the soil.
The small plant is placed into a scooped out space in the new pot and compost used to gently pack it in. The packing should be tight but not jammed in. The new pot is then well watered (best several times lightly over an hour) and then the pot placed outside in a protected spot.